Search 'US Election 2020' to see all our coverage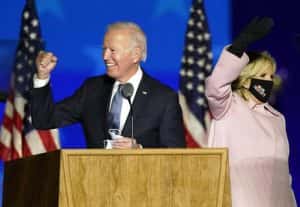 JOE Biden has been declared as the new president of the USA after defeating Donald Trump in a hotly contested election battle according to major news outlets.
The current president is not likely to concede the election, as he continues to pursue legal battles against alleged voter fraud.
Biden, though, is the victor, and he secured the crucial electoral college votes in Pennsylvania after a long delay while the world waited for the final votes to be counted.
The new President picked up 284 electoral college votes, with Georgia and Nevada still waiting to be declared.
Officials cannot confirm the final voting figures, but Biden received the most votes of any president in US history as voter turnout reached unprecedented levels.
Trump lost the battle of the key swing states, and ultimately his defeats in Wisconsin, Michigan and Pennsylvania were his undoing.
Biden winning Georgia will arguably be the biggest shock of the election, as the traditional Republican stronghold is projected to turn blue for the first time since 1992.
While the election has been concluded, the battles will continue as President Trump will contest the result as he claims that the Democrats cheated to victory.