Search 'US Election 2020' to see all our coverage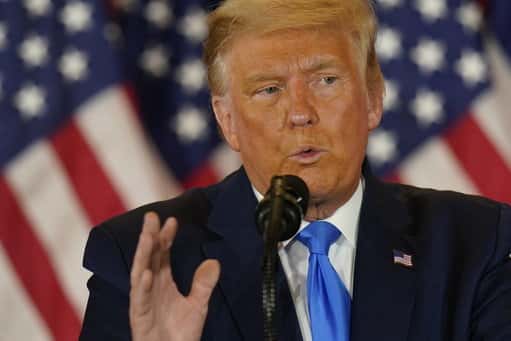 PRESIDENT Donald Trump has declared the US election a "major fraud on the American nation" in a provocative and misleading late-night election speech. 
In a press conference at the White House, he falsely claimed he was the winner and confirmed he would go to the US Supreme Court over the result, saying: "We were getting ready to win this election – frankly we did win this election.
"So our goal now is to ensure the integrity for the good of this nation. This is a very big moment.
"This is a major fraud on our nation.
"We want the law to be used in a proper manner, so we will be going to the US Supreme Court. We want all voting to stop.
"We don't want them to find any ballots at 4am and add them to the list."
The 2am speech in Washington came as Joe Biden remained in the lead, with 220 electoral votes to 213 for Mr Trump.
Mr Biden said: "We believe we're on track to win this election" and later tweeted: "It's not my place or Donald Trump's place to declare the winner of this election. It's the voters' place."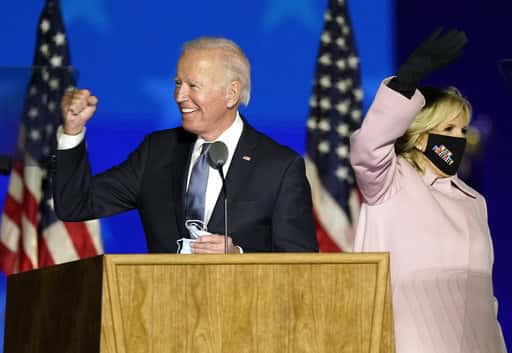 To take victory and secure the presidency, 270 electoral votes are needed, but millions of votes, including early postal votes which are thought to favour the Democrats, are still to be counted.
These include ballots in vital states such as Pennsylvania, which both candidates need in order to win.
Mr Trump's speech came after he earlier tweeted: "We are up BIG, but they are trying to STEAL the Election. We will never let them do it. Votes cannot be cast after the Polls are closed!"
Twitter later flagged the tweet as misleading.
Prominent Democratic opponents condemned Mr Trump's claim of victory.
New York representative Alexandria Ocasio-Cortez tweeted: "Donald Trump's premature claims of victory are illegitimate, dangerous, and authoritarian. Count the votes. Respect the results."
And Minnesota congresswoman Ilhan Omar tweeted: "The irony of worrying about people turning America into Somalia, while allowing Trump to do literally what Somali dictators used to do.
"Wake up, he is destroying everything that sets us apart. We send election observers into other countries, we shouldn't need ours monitored."
Britain's Foreign Secretary, Dominic Raab, acknowledged that there would be "slightly different contours of the opportunities and the risks" for the UK-US relationship depending on who wins.
But he told Sky News that the "bedrock" of the security, economic and cultural ties meant "the relationship will go from strength to strength".