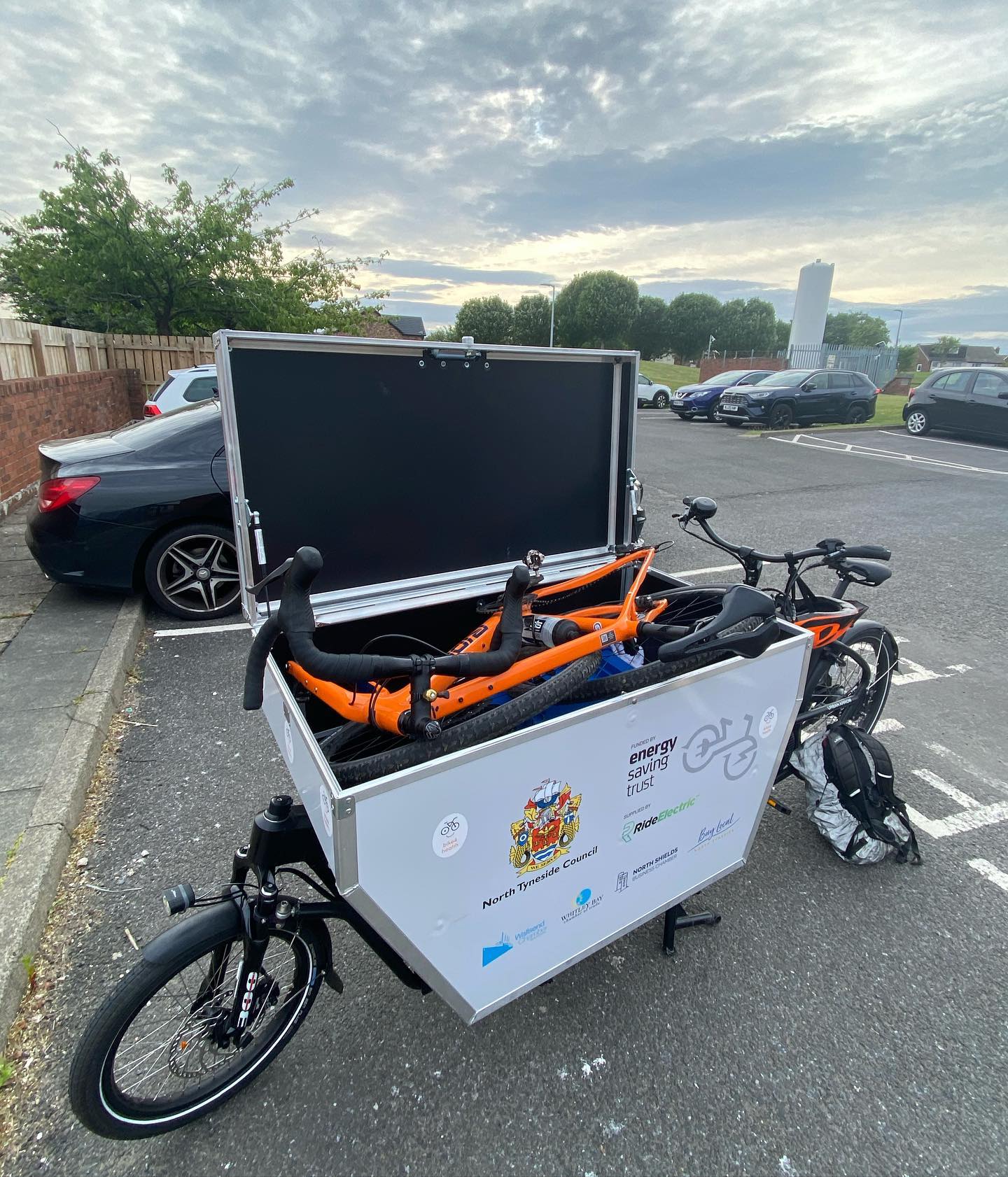 ELECTRIC CARGO BIKES are helping a North Tyneside business to cut down their carbon emissions on local deliveries while saving time and money with support from North Tyneside council.
Bike4health, a community interest company based in North Tyne industrial estate, made their first delivery last week using an Urban Arrow e-Cargo bike provided by North Tyneside council.
The delivery consisted of 40 helmets for a local school as part of their ongoing project to get #morekidsonbikes.
David Buchan, founder and director of bike4health said: "I have managed to put 40 bike helmets in the carrier. We can probably get three or four bikes in the carrier.
"But what we want to do is develop it with local businesses, whether it be a catering company or an embroidery company that wants to deliver jumpers.
"We are also talking to the Northumbria Healthcare Trust about delivering PPE or even non-essential medical records.
"The beauty about the North East is that our cities tend to be quite small. If we could get a number of small businesses involved e-Cargo bikes would take off.
"Think about the local builder who is up his ladder and needs a pack of nails or something- he's got to come down, and then he has to get in his van, and sit in traffic just to get to Screwfix and then back".
"Instead, you could have an e-Cargo bike parked outside Screwfix for that last-mile delivery at a fraction of the cost as well as saving a lot of time".
According to Tomtom, drivers across Tyne and Wear lost around 75 hours while stuck in traffic during rush hours in 2020 alone.
North Tyneside Council's e-Cargo bikes, secured with a bid for more than £76,000 from the Department of Transport's e-Cargo Bike Grant Fund, might help to reduce the volume of local deliveries and cut down on busy rush hour periods.
David Buchan says that "real cultural change" is needed to revolutionise the way humans travel to reduce traffic and help to improve air quality.
"The trouble is we've been ingrained with a car culture and this idea that people only know a certain way to get somewhere. People are a bit reticent to turn left or right to have a little bit explore."
Moving away from a car culture in the North East and across the UK would require car drivers to share roads with cyclists.
Buchan said: "Car drivers are not very accepting towards the e-Cargo bike out on the road. It's a mind shift.
"A Bike4health employee was out yesterday and he got cut up about four or five times, and other times there was close passing because people have become just so impatient-it's all about cultural change from an early age."
Part of Bike4health's work is helping children find a safe way to commute to school, as well as supporting adults to cycle to work safely.
Buchan said: "There were some people we helped on the new housing estate within a five-mile radius of Cobalt Office Park- they didn't realise there's a bike path at the back of the estate that will take them easily to work on the bike.
"It's almost like you have to take people by the hand and show them that there is a suitable way to commute and that they can leave the car behind".