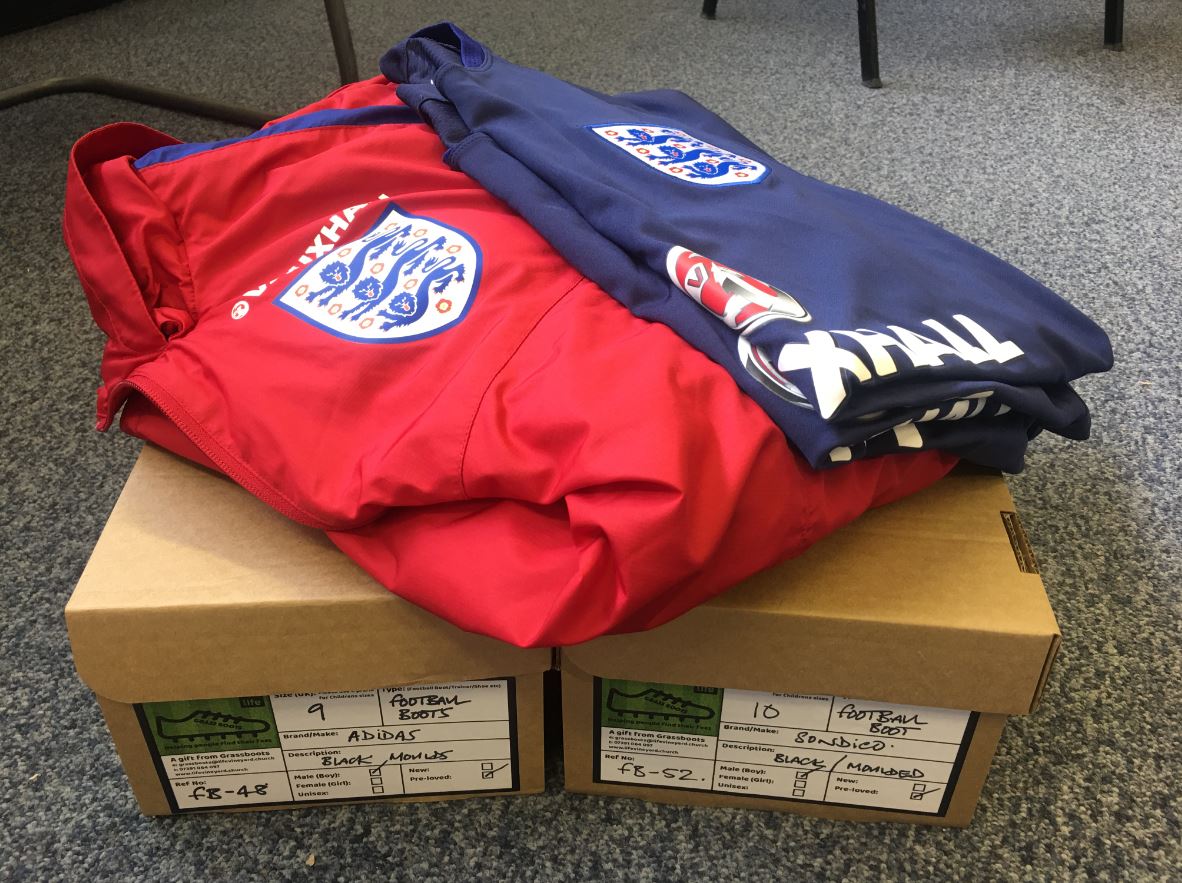 NEWCASTLE'S next Alan Shearer could be lacing up donated football boots from a local Newcastle church group this summer.
'Grassboots' is the latest community project by a Life Vineyard Church in Marley Hill which gives footwear including football boots and school shoes to those in need.
So far around 150 pairs of shoes have been donated to children across Tyne and Wear.
Geoff Dawson, a pastor at a Life Vineyard church in Marley Hill, was inspired to start the project while delivering food parcels to families in need in Newcastle.
He said: "I met a lady who had just come out hospital who had three kids and she just said, 'it's a choice between my son having a pair of shoes or putting food on the table'.
"Another family just showed me the fact that one of the children had no shoes and the other one just had the shoe hanging in half.
"It just really hit me that whilst I love trainers – I've got a few friends in a WhatsApp group where we share trainers and clothes and talk about the sales and things like that- I just thought, here I am in this privileged position to be able to buy a pair of trainers with birthday money or Christmas money."
This privileged position is shared by people across the UK, but there is a significant minority of people who will chuck their old trainers straight into the bin.
At the end of lockdown, WRAP's survey found that UK citizens are having a big clear out, with as many as 22 million pairs of shoes to be donated.
But in the same survey, 14% of people will chuck their clothing items, including shoes, into the rubbish bin rather than donating to charity.
Some soles can last for up to 1000 years in landfill, which means there is a two-fold cost in sending preloved shoes to the dump. Not only does it deprive those in need but it contributes to the UK's overwhelming landfill issue.
There is only a finite amount of space to store the nation's rubbish. An estimated 1.79m cubic metres of landfill site capacity is left across Tyne and Wear, according to the latest government survey in 2019. Nationally there is 66.1m cubic metres left, which is a mind-boggling amount of space that is being used for rubbish.
Mr Dawson said: "I'm always saddened and disgusted by what gets thrown away, especially when people hardly wear footwear and it just goes in the bin – it wouldn't even go to a charity shop."
Grassboots is the latest in a series of local projects run by the Life Vineyard satellite church to support local people. This includes a food co-operative called Byker Pantry, which allows Byker residents in need to buy food at a discounted price. These projects continue to run alongside the latest endeavour to help Newcastle's needy.
Mr Dawson said: "I think my passion is football boots and trainers, but I realized a lot of families couldn't afford school shoes. When the lockdown sort of eased a bit and the schools were allowed to go back, a lot of families came to us and said 'we can't afford school shoes'. So we gave out a lot of school shoes at that time.
"We've appealed for quite a lot more and we've got a decent stock of school shoes going forward ready for September as well."
Other than receiving direct donations from the public, Mr Dawson sources footwear from In Kind Direct, a charity that distributes consumer goods from surplus stocks to charities to give them away to those in need. Since HRH The Prince of Wales started the national charity, In Kind Direct have donated over £275.7m worth of essential products, saving 31,268 tonnes of usable goods from landfill.
"They had quite a lot of football boots and trainers that I could get for a few pounds a pair," said Mr Dawson. "So you're not allowed to sell them on – there's lots of rules about when you buy them-you've got to give these things away. But it meant that if someone gave us £100 we could buy a lot of trainers and a lot of football boots."
The Grassboots project has received some generous financial donations from local businesses and individuals.
A Waitrose store in Jesmond donated £166 to the project, which goes a long way in sourcing more shoes for youngsters.
Mr Dawson said: "We've received donations from Brewin Dolphin, a financial firm in Newcastle. I've got a friend who works for them where you can apply as an employee for a charity to support."
A number of individuals have also made generous donations to the cause to ensure children in Tyne and Wear have access to the basic necessity of footwear.