Search 'US Election 2020' to see all our coverage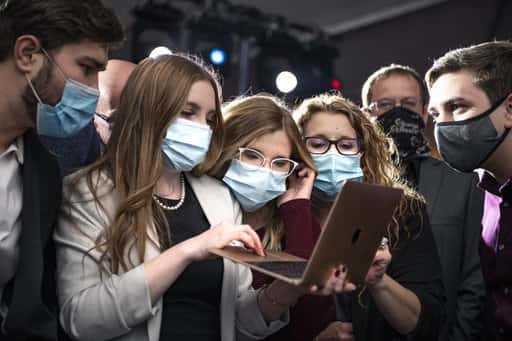 IT IS still too early to predict the result of the US Election with the polls neck-and-neck.
Donald Trump and Joe Biden are fighting to win 270 electoral votes needed to secure the Presidency.
As it stands at the time of writing (7.15am), Joe Biden is ahead with 220 electoral votes to 213 for Donald Trump, with 11 states left to declare. The President is having a better night than some polls and critics predicted.
President Trump has been called to win Texas and the state of Florida, securing 67 electoral votes, and has picked up the key swing-state of Ohio, usually a good indicator of who will secure the Presidency. No Republican has ever won the Presidency without winning Ohio.
Mr Biden looks set to win Arizona, a state not won by the Democrats since Bill Clinton in 1996, and has been called as victor in the key swing state of Minnesota. 
But several swing states still hang in the balance.
Georgia – which was won by Trump in 2016 – could still go either way and other vital states, including Arizona, Pennsylvania and North Carolina, are still too close to call.
Speaking to crowds in his home state of Delaware at 5.45am GMT, Mr Biden reassured supporters: "We believe we're on track to win this election". He also said he felt confident about Arizona and winning in Wisconsin and Michigan.
Breaking an unusually prolonged Twitter silence overnight, President Trump told fans after Biden's speech: "We are up big, but they are trying to steal the election. We will never let them do it. Votes cannot be cast after the polls are closed!" 
It may take days for the full result of the election to be declared, as counting of postal ballots continues in states like Pennsylvania.