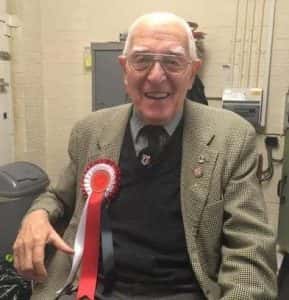 SUNDERLAND fan George Foster received a surprising phone call yesterday from Sunderland manager Phil Parkinson.
The 93-year-old super-fan has followed Sunderland his whole life and is currently chairman of the Supporters' Association.
Over recent months George had felt detached from the club due to the impact of Covid, but he was given a timely pick-me-up when Parkinson contacted him for a long chat.
His friend, Joanne Youngson, spoke on George's behalf and said: "George was feeling really down because he hasn't been able to go to the games.
"He has been isolated during lockdown and he was really worried about the club and the financial implications of Covid.
"He doesn't use the internet, so he was quite detached from the club. So we spoke with Sunderland CEO Jim Rodwell about the possibility of someone from the club contacting him for a chat."
She continued: "We didn't really hear anything after that, but then George called me to say he had just spoken with Phil Parkinson!
"He was so excited and it really made a huge difference to him, because the club is such a big part of his life."
George first attended a Sunderland match in the 1930s and the club has made sure he can make every home match by offering him a seat in the press box.
In 2019, Sunderland owner Stewart Donald also made sure he could attend the play-off final at Wembley.
And now the Sunderland manager has taken time out of his busy schedule to speak to one of the club's most loyal fans.
Joanne said: "George was really worried about the club because of the revenue losses, so it really assured him with the manager called him to say everything would be okay.
"George loves the club, and for the club to show him so much respect is brilliant."