Roundhouse Digital have made it their mission to help Sunderland's local businesses gain the knowledge of the four main social media channels, by hosting a series of free workshops.
Roundhouse Digital is a group of consultants, technicians, developers and designers who have a passion for the digital world. This team helps people from charities to global businesses by creating data-driven solutions to deliver a measurable return on investment.
Elliot McGrath is Roundhouse Digital's Content Strategist. After joining the team in 2017, McGrath works alongside clients to help them communicate consistently and cause an impact on their target audience, while also taking into account that particular businesses objectives. With expertise in press and media relations, and being a member of the Chartered Institution of Public Relations, McGrath is a vital part of the Roundhouse Digital team.
"I think the most interesting bit I find is how you actually protect your reputation, so hopefully, people go away and understand that it's important to, even if it's your business and is something that you are so emotionally invested, to just take a minute and to just take a breath. Not to take things quite as personally if someone is criticising your business because if you do that it can escalate into something."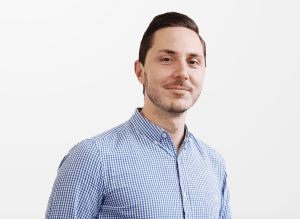 This event was the second part in a series of free workshops hosted at Hope Street Xchange, Sunderland to be aimed at local businesses, no matter their size. Although the small series of workshops are primarily aimed at local businesses, this is not an exclusive event so anyone is welcome to attend. McGrath is open to topic suggestion within his workshop series and wants to accommodate the attendees as much as he can with his wide range of knowledge.
This particular workshop covered the basics of the four main social media channels; Facebook, Twitter, Instagram, and LinkedIn. The workshop aimed to help local businesses get the most out of each platform by optimising it for their particular audience. While each workshop covers different elements for the digital world, they generally provide free digital and communication support for small and medium local business in Sunderland. The workshops also offer the chance for people to ask questions and expand their knowledge of digital and communication platforms.
Katy Sawyer, organiser of the workshops says: " They will bring an opportunity for small businesses to develop their digital skills in an environment where they feel comfortable."
The workshops are free of charge to attend and the next workshop will be PR focused. There is not yet a set date but it will be in the New Year, around February or March time.
To keep up-to-date with information follow both Elliot McGrath and Hope Street Xchange on Twitter.