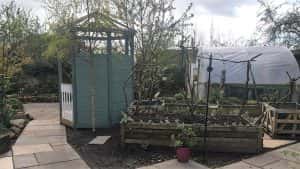 A formerly neglected council site in North Tyneside, once a WWII air-raid shelter, is now a thriving garden spot hosting small outdoor events.
Lovaine Community Garden, North Shields, is run by local resident and co-ordinator, Wendy Young, 41.
Mrs Young said: "We rent the land from the council.  Before we had it, it was a scrap of land – in neglect, basically.  They had a lot of anti-social behaviour, littering and fly-tipping.
"About 10 years ago, the residents became tired of that and formulated a plan to rent the land and maintain it."
Mrs Young, who took over the project four years ago, described the change.
"It's worked really well because it's no longer an anti-social hotspot.  We open up to the community and to the public; it might be a barbeque, an Easter Fun Day for the kids or an acoustic gig."
Local musician, Jules Petyt, 50, came along to play the dulcimer and support the efforts of the community gardeners:
"After all of the hard work put into it, the garden is a really nice place to play music at this time of the year. The ducks and occasional cats wandering around only add to the fun," Mr Petyt said.