Local cyclists and a prominent North Tyneside councillor have been showing their concerns for the progress of a long-delayed restoration project.
The Tyne Pedestrian and Cyclist Tunnels closed in May 2013 for refurbishment.  A series of setbacks, including asbestos contamination, corrosion and the collapse of the original hired firm, GB Building Solutions, has continually delayed the process.
When approached in February for confirmation of the planned Spring 2018 reopening, Bradley O'Mahoney, the company in charge of public relations for the project, were tight-lipped on the situation, stating: "We are not doing interviews or exclusives at the moment."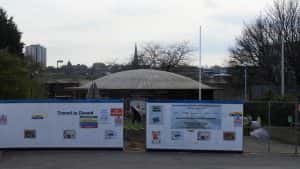 A further delay was subsequently announced, via the Newcastle Chronicle, days later.
Meanwhile, Jake Wilson-Craw, 32, retail manager of Recycle y'Bike in Byker, Newcastle, described his frustrations and those of his fellow cyclists:
"It's been so long now it seems it may never open, which is a shame.
"I know a lot of people on local bike forums are frustrated with the delays, and it'd be useful for commuters as well as Sunday riders."
Mr Wilson-Craw also discussed the benefits of a re-opened tunnel, compared to the other options currently available to cyclists in North Tyneside:
"It is about 10 minutes from our house, so it'd open up a lot of possibilities if it were open.  It's certainly a better option than the ferry in terms of speed and convenience, and it's a fairly long way to the Millennium Bridge."
Bruce Pickard, Deputy Mayor of North Tyneside council and Councillor for the Riverside ward has investigated the matter personally:
"I have tried to find out exactly what the position is. It looks like it is now on track to open in the autumn."
In the meantime, the North East Combined Authority, which owns the tunnel, will continue to run a free-to-use replacement bus service to help cyclists commute to both sides of the river.  The shuttle runs between Jarrow and Howdon, 6am to 8pm, 7 days a week.