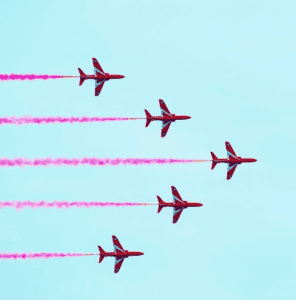 With the 30th annual Sunderland Airshow only being months away, the hype has once again begun in and around the city of Sunderland.
Visitors to this year's airshow will have the opportunity to upgrade their experience at the event by treating themselves to tickets for a newly launched 'Take-Off Enclosure.'
Along with the enclosure coming to the airshow this year, the event also sees lower price for 2018. The tickets for the enclosure itself will be available to purchase for all three days of one of the biggest events in the North East this year.
Visitors to the enclosure will have the chance to enjoy a relaxed and comfortable atmosphere while taking in the views of the flying figures soaring over the North Sea.
Sunderland City Council Head of Events Victoria French said: "This year we really wanted our upgrade package to reflect the feel of the wider event.
"By lowering our ticket prices and including children's activities we have created a more accessible, family friendly experience that our visitors will find relaxing and enjoyable."
Also visitors will receive their very own boarding pass allowing them to access and indulge in a whole host of treats including: a welcome drink, buffet style light food, snacks and drinks to purchase, access to private toilets as well as air and undercover seating.
This will also provide fun for all the family and keep everyone entertained with access to activities for children within a secure environment.
The 'Take-Off Enclosure Boarding Pass' also allows visitors to come and go as they please, so they have the opportunity to explore the event in full as well as having the chance to escape the crowds at any time.
So far the airshow will include flying displays from some of our favourites such as the RAF Red Arrows, Typhoon, and Battle of Britain Memorial Flight amongst many others.
With a wide range of ground displays to explore, anyone visiting is assured that there will be plenty for the whole family at this year's Sunderland Airshow.
For further information about this or to purchase tickets please visit www.sunderlandinternationalairshow.co.uk