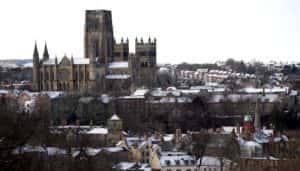 Whether you're just starting out or have been together for years, dating is a significantly important part of any relationship. With Christmas coming up you might be thinking about trying to save some pennies and dating might be the last of your priorities, but it doesn't have to be that way. Here are a few date ideas that won't break the bank in and around Tyne and Wear.
Have a quiet stroll round Jesmond Dene
(The beautiful surroundings of Jesmond Dene, photo credit – Ian Bell)
A nice long stroll surrounded by the most beautiful scenery is enough to make you forget about all of your problems, even if it's just for a little while. Jesmond Dene is a woodland park in the east end of Newcastle and home to a small river known as the Ouseburn. Created by William George Armstrong in the 1850's and originally used for his own private use, this gorgeous park is now open to be enjoyed by all and ultimately is the perfect date destination.
Total price – £0.00
Watch the sun-rise or sun-set at the Angel of the North
(One of the North-East's most famous Landmarks at sunset, photo credit – Mel Sargent)
The Angel of the North is a spectacular landmark to visit no matter what, but visiting at Sunset or sunrise makes it all the more romantic and won't cost you a penny. Designed by Antony Gormley and standing at 20 meters tall, it's a site that you will never get tired of seeing. You can sit back and watch the sun illuminate this magnificent sculpture, take some photographs and make some memories all for free.
Total price – £0.00
Pitch your tent up and get yourselves camping
(A camping set up with a view, photo credit – Restless Soul Adventures)
Camping is a great way to bring out your adventurous side and the North-East has plenty of places to offer for you to do just that, Crimdon Dene and Byreside Caravan Site  to name just a few. What's more exciting than pitching up a tent, getting your winter warms on and sitting round a camp fire with someone you love. It's the perfect opportunity to chat away and to enjoy being in each other's company. It can also cost as little as £7.35 per night.
Total price – £7.35 – £70.00 per night
4.  Share the love at Beamish Museum
(Two people pictured riding an old fashioned steam tractor at Beamish Museum, photo credit – pink_bow_photography_84)
What sounds better than going back in time? Beamish Museum gives you the opportunity to do just that. The World famous air museum tells the story of life in North-East England during the 1820's, 1900's and 1940's, and you haven't even heard the best part. Once you buy your ticket, you have unlimited re-admission for a full year! That's a full year's worth of dates sorted at no extra cost.
Total price – Adult ticket £19.00 (unlimited) Student Ticket £14.00 (unlimited)
A scenic walk along Roker Beach
(Roker Beach at sun set, photo credit – stan18t)
What's better than a romantic stroll along the beach? A stroll along Roker Beach! Sunderland's Roker Beach is a fantastic destination. If you get the right weather, it can be a great place for the pair of you to let your hair down and really appreciate the beauty around you without costing a thing. Lets face it, who doesn't enjoy a pleasant beach walk?
Total price – £0.00
Experience Durham Cathedral
(A look inside of the fantastic Cathedral, photo credit – Angelos Athanasakos, Instagram – angelosathanasakos)
Durham Cathedral's architecture, stained glass windows and profound history is really something to be admired and the setting is a great destination to visit with someone you love. The Norman building constructed between 1093 and 1133 is also free of charge to enter and is surrounded by small cafes and restaurants if you really wish to make a day of it.
Total price £0.00 (donations are welcomed)
Have a look up Grey's Monument
(Picture captured at the top of the monument showing the view of Newcastle City, photo credit- Emma Minto)
Going on a date to Grey's Monument will give you the chance to see the second best view in the whole of Newcastle, (obviously you will tell your partner that they're the first).Built in 1838 and designed by local architects John and Benjamin Green, the Monument named after Charles Grey gives you opportunity to overlook the fantastic City and for as little as £4.00 pp.
Total price –   £4.00 pp
Browns Rowing Boats for a romantic day on the river
(A bird's eye view of Browns Rowing Boats lined up one by one, photo credit – Anne Fletch)
Browns Rowing Boats is the perfect opportunity to bring out the romance in your relationship, it's as though Venice has been brought to your doorstep.  The lovely setting makes for a perfect day out, especially in the summer time weather. You also have the chance to have a look around the Boat House and even stay for a few cocktails if you wish. Since the 1900's, Browns rowing boats has been one of the most romantic date destinations in the North-East and is definitely one to visit.
Total price £7.00 pp