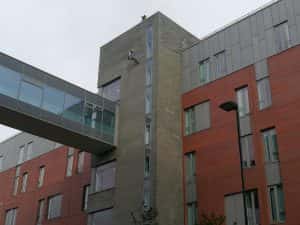 15 people abseiled down the Royal Victoria Infirmary in Newcastle to raise money for the Kieran Maxwell Legacy on Saturday.
Much-loved Kieran Maxwell, aged 18, died of Ewing's Sarcoma (a rare form of bone cancer) in June and the Kieran Maxwell Legacy has been set up in his memory to fund research into the rare disease.
Kieran's Mum, Nicola Davis-Maxwell, speaking at the event said: "It's wonderful we've got a wide range of people that are doing this in Kieran's memory.
"We've got parents whose children are on treatment, bereaved parents – one's like myself that have lost their child – we've got ones that are on treatment, those in remission.
"We've also got family members who are terrified of heights, friends of Kieran's who are terrified of heights.
"For them to overcome their fears to help raise money to fund treatments for children with cancer, it means a lot."
Joseph Dredge, 18, was a close friend of Kieran's and he overcame his fear of heights to abseil down the 97 feet block.
Dredge said: "It feels really really good to have done such a big event, and I'm just happy that I've done it for people that I know and love and raised some good money for people that deserve it.
"If he (Kieran) had to do something that he didn't like, he'd get on with it, he'd do it, so it's just in the spirit of him really."
Davis-Maxwell added: "Each of the 15 abseilers have raised quite considerable amounts.
"It's heartwarming that my son's dream before he died is going to hopefully come to fruition, and we can get more survivors of childhood cancer."
The charity has numerous events planned in future, including a ball on November 25th, a fundraiser on December 16th and a Christmas Concert on December 21st. For more details you can visit their Facebook page 'Kieran Maxwell Legacy'.