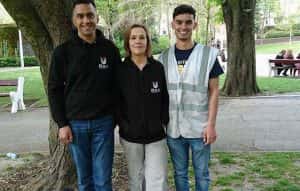 A group of aid workers from the North East have travelled to two French cities to deliver donations from the region to refugees.
The trio, made up of  Taz Maqsood from Sunderland, Louisa Taylor from Blyth in Northumberland and Sabbir Islam from Whitley Bay, went to Calais and Dunkirk to hand out two vans full of aid to those in need.
They also supported refugees on the ground who needed help and support.
A fire recently devastated the Grande-Synthe refugee camp outside of Dunkirk leaving many refugees homeless again.
Mr Maqsood, who visited the now dismantled Jungle in Calais said: "After the Dunkirk fire I could imagine the urgency for help so had to get out here and help.
"The situation in Dunkirk is horrendous, basically a cat and mouse chase.
"Refugees are asked to move but have no safe place to go so they are sleeping rough in parks, woods and anywhere they deem safe.
"We basically drove around trying to locate refugees and give them basics – food, water and sleeping bags."
Volunteer Sabbir Islam, who also went on the trip, added: "A lot of them are travelling with frighteningly little."
As well as supporting refugees first hand the group also put on a sports day for refugees in Calais with the help of Care4Calais and a French organisation called Utopia Group.
Taz Maqsood added: "A young school lad from France wanted to do something for the refugees so he called upon Care4calais and we went to support.
"The teenagers were able to be teenagers again and forget about the suffering even if it was for a short while."
To find out more about Refugee Aid Network (RAN) UK visit their Facebook page.