A unique vegan café is on the map, set to provide Newcastles growing vegan scene with a hub for community art projects. Young entrepreneurs lead the way.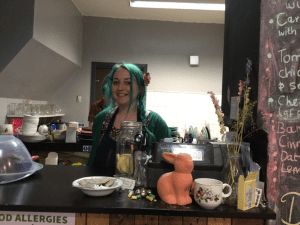 Twenty six year old Jessica Salmon along with her business partner Asher Turnbull have recently started a new business venture to develop a vegan artistic hub in the heart of Newcastle city centre, located on Westgate Road. Jessica is a recent graduate in contemporary textile products at Cleveland College of Art and Design who has been vegan for three years, she says 'I've always wanted to open a little café' being inspired by work that matches her own ethics and lifestyle.
The café, named Wildflower is one of the few only totally vegan cafes in Newcastle Upon Tyne, attracting a thriving vegan and creative community. As an 'art café' they aim to develop an environment for creative people to express themselves and collaborate on artistic projects, whilst also providing the much needed sanctuary to enjoy vegan food and to escape the hustle and bustle of everyday life.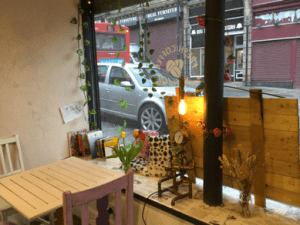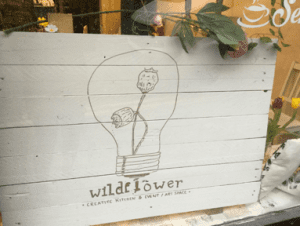 The café began with very little funds, whilst gaining some support from crowdfunding most of their furniture and equipment has been acquired through Freecycle or donated by the generosity of the local community, keen to support the young business owners.
Salmon said: 'I have always wanted to own a little café. I really wanted to work somewhere that matches my ethics and can enrich an area with art, music and cake'
Serving a menu of vegan food, ranging from falafel burgers, toasties to Moroccan tagine. Whist also dishing up a variety of cakes, brownies and flapjacks with a selection of juices, coffees or teas served in individual teapots to match the décor and feel of Wildflower. There is certainly something for everyone.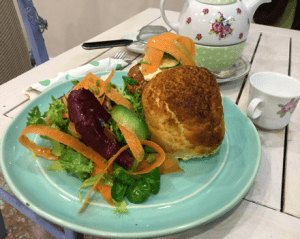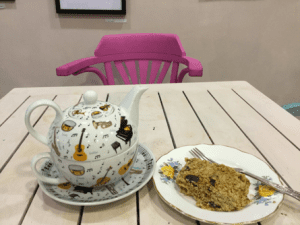 The café regularly organises events, ranging from art markets, workshops to themed nights. Regular activities include, 'stitch and bitch' and 'the writers collective' bringing together local creatives to share their skills and to work on their latest projects over a cup of tea. Wildflower is immediately welcoming – it is easy understand why many from the local artistic community feel at home here.
'We want our events to demonstrate an eco friendly ethic and helpful attitude towards the community' says Salmon.
Future events planned include a vintage popup shop on the 15th February, 'Beatz and burgers' on the 24th February, and a steampunk market on Saturday.
Wildflower also aims to support local artists, by promoting or selling their work and providing a platform for networking opportunities. The walls of the café are decorated with creations and paintings produced by local artists, that are for sale and add to the decor and feel of the creative space. Charging very little commission for displaying the work in comparison to other outlets, Wildflower recognises the struggle that many making a living from the arts face, ensuring that they promote local talent.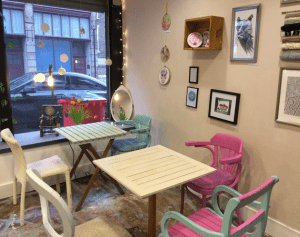 'I want to help local artists and provide opportunities to work on projects together. I want to bring these creative activities into the community' Salmon said.
Through drive, determination and hard work – the launch of Wildflower has demonstrated that it is possible to turn something that was once a dream into a reality.