The National Centre for the Written Word opens to the public on Saturday October 22 in South Shields town centre.
Opening with an exhibition showcasing the works of famous local movie director Sir Ridley Scott, The Word aims to become a centre for north east writing, reading and learning.
And their opening comes just in time for half-term week, and they are making the most of it with a plethora of events on for people with a range of interests. Including the opportunity for children to make their own stop-motion animation using lego figures, the inaugural comedic poem "JibbaJabba" championship and an exhibition of local artist Aidan Doyle's paintings and drawings.
The Word will also be offering a multitude of spaces and facilities for anyone to use, including a library with over 70,000 books in stock , a cafe with views over the River Tyne and The OpenZone @
The Word uses technology to aid schools in their pupil's learning.
Keen to keep an online presence, the Word also has its own Facebook, Twitter and Instagram accounts.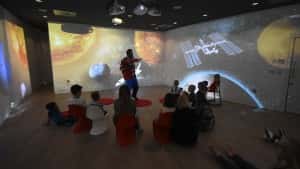 The Word has also been sponsored by BT who have supplied The Word with a creative area called FabLab, featuring 3D printers and vinyl and laser cutters allowing visitors to design and produce items such as keyrings, fridge magnets and jewellery.
Mark Johnson, Chief Operating Officer of BT South Tyneside said: "We are keen to foster a culture of 'tech literacy', particularly among young people and children.
The FabLab will offer the opportunity to be creative using state of the art technology."
Storyworld is an interactive and immersive story telling space that uses all four walls to incorporate stunning backdrops and sound effects to create atmospheres that the whole family can get lost in and enjoy the experience.
Councillor Alan Kerr said: "Anticipation is building ahead of The Word opening and the new website means that people can stay in touch and find out more about the exciting events programme and facilities inside.
"People are already going online to book events for the opening week."