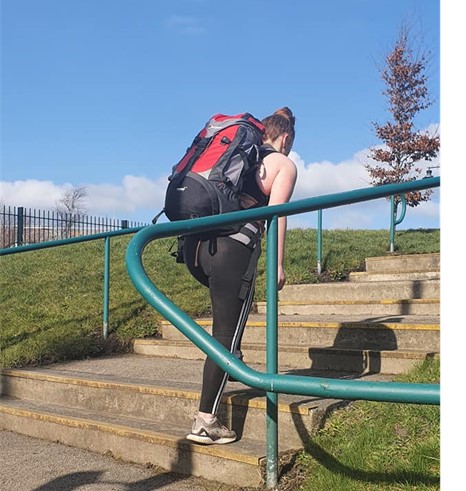 TWO SISTERS from Sunderland will take on the challenge of a charity skydive to help raise funds for local causes including military veteran charities.
The skydive takes place on Sunday, 23rd May, 11am at Peterlee airfield, County Durham, and is the latest challenge that sisters Eva and Iesha Heads have been taking on to help raise funds.
Eva and Iesha have been cleaning beaches, tackling challenging walks and runs at Penshaw Monument and Herrington Country Park, as well as making a gruelling trek from Ryhope to Seaburn with a regimental standard 35kg backpack before a dip in the freezing sea.
Eva Heads, who is training to be a combat medic, said: "I'm really excited compared to Iesha, she's really scared to do it."
But despite the excitement and nerves, both sisters acknowledge the importance of the charities they are raising money for.
Eva said: "We know from first-hand experience how difficult it is with PTSD and mental health. People go out and serve and fight for our country and this is the least we can do to help them.
"I lost a friend in the Fusiliers a couple of months back due to suicide."
Iesha Heads, said: "I am very nervous for the skydive, as I have a fear of planes and always panic when I am on an airplane, but I want to push myself by facing one of my biggest fears."
As part of the charity fundraising, the sisters have been supporting counsellor and hypnotherapist Theresa Smith, in raffling off her four-storey property in central Sunderland worth £300,000.
So far, 1100 tickets have been sold, but with just one £5 ticket the Edwardian terrace could still be won in the draw which takes place on the 21st of June, 10pm.
Music: Paper Planes – Durden ft. Airtone by DURDEN (c) copyright 2016 Licensed under a Creative Commons Attribution (3.0) license. http://dig.ccmixter.org/files/DURDEN/55041 Ft: Airtone
For 31 years, Theresa has run her own counselling and hypnotherapy practice in Sunderland – Norfolk Clinic Private Practice – helping young children and adults and working with members of the armed forces and war veterans.
Theresa Smith said: "We are currently running a competition that will support several local charities and specifically our Armed Forces communities that are in need of support either on return from tours of duty or having passed out of full-time military service.
We will be making significant donations to Sunderland based Veterans in Crisis as well as the national charity Official Minds at War CIC- a last line intervention support service for those in danger of self-harm or even suicide."
From now until the skydive on Sunday, a pound from every raffle ticket that gets sold goes directly to the following charities: Brothers in Arms, Veterans in Crisis Sunderland, Cuthy's Big Bike Ride, I'm in for Will, Happier Days for Strays.
The skydive will be live on Facebook and Instagram, and by following these links you can also enter the competition.
View this post on Instagram