HOLD FOR PUBLICATION – RIGHT OF REPLY NEEDS TO BE GIVEN TO THE FIVE COUNCILS?HOUSING ASSOCIATIONS MENTIONED. NEIL MAC
EXCLUSIVE
An investigation by SR News today reveals how the pandemic is exposing the true scale of the region's homeless population.
We have found evidence of vulnerable people in crisis being put into dilapidated, damp-riddled B&B accommodation, and left there long after Government rules say they should be moved into more permanent, higher-quality accommodation.
Our enquiries have also shown how the Government's orders to accommodate vulnerable homeless people during lockdown has led to local councils rushing to put people into unfit properties – at hugely varying costs to local taxpayers.
---
INFORMATION obtained using Freedom of Information requests shows that across the five local authorities [LAs] covering Tyne and Wear (Newcastle, South Tyneside, North Tyneside, Sunderland and Gateshead) the number of people classed as 'rough sleepers' has spiralled during the coronavirus pandemic.
Up to April 2020, there were 75 single homeless people being temporarily sheltered in bed-and-breakfast (B&B) accommodation – but 926 (a twelve-fold rise) between then and the end of January 2021.
From April 1 2020 to January 31 2021, Newcastle placed into B&Bs 42 single people needing emergency help, while South Tyneside placed 105, North Tyneside 172, Sunderland 189 … and Gateshead a staggering 418.

The rules for re-homing homeless people in such crisis situations say B&B accommodation should only be used for a seven-day period before the local authority places them into either a hostel,  supported living or private rented accommodation. However, we found that 44 people had been kept in a B&B for longer than that – with some of them spending over six-months in B&Bs.
The combined cost of B&B accommodation since April 2021 was just short of £800,000, but with only £287,300 in government aid, the crisis has still cost the five local councils £508,886.
But here, too, we found huge differences between what the LAs spent.
Newcastle spent a whopping £2,214.98 on each person needing help, while Gateshead spent just £596.97 per head. We asked Newcastle why their costs-per-head were nearly four times higher than the other LAs, but were still awaiting an answer at the time of publication.


Many homeless people have addiction and mental health issues, and having no safe and secure place to live makes any rehabilitation work exceptionally challenging. This often leads to relapse and, in many cases, re-offending, we were told by one local charity. On top of this, a large number of  homeless people are escaping domestic violence and intimidation, so are in desperate need of permanent accommodation.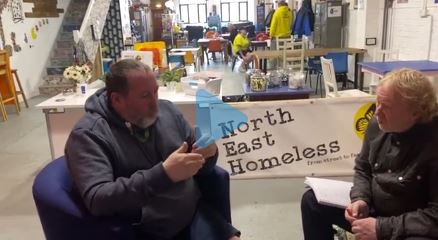 Brian Burridge, 65, from North Tyneside, chief executive of the charity North East Homeless [NEH], explained the issues he comes across from desperate people who find a lifeline at their centre. The charity runs a cafe near the Fish Quay in North Shields, and also offers support ranging from help with food parcels, companionship, form-filling, outreach support, life-skills, interview training and important links with addiction services and mental health support services.
We asked Mr Burridge about the numbers uncovered by the investigation.
"This is another thing that I don't understand," he said. "So, the term 'rough sleeper' came in a few years ago and the government and council seem to focus on this 'rough sleeper' number. Now what they do is they pick up someone that is sleeping rough and they will put them into accommodation, like a B&B. Then they celebrate the fact that they have sorted 'rough-sleeping' by a certain percentage.
"But they have not [sorted the problem], all they've done is renamed it and put someone in a B&B for whatever; a week, a month, and it is not good for them… it is not fixing anything. It's a bit like going to a food bank and getting food every week. You're not fixing anything, it's just a temporary fix. So I don't understand why they're not working alongside the person… who needs lots of support; mental health support, financial support etc. Where is all that support coming from? Because I don't see any and I don't hear of it.
"I just hear about people being put in a B&B and then they are left; trapping homeless people."
On the subject of what happens to the 'rough-sleeper' once they are placed into rented accommodation, he is equally passionate.
"I could become a landlord and there are no checks done on us whatsoever… as a private landlord I can do pretty much what I want. And you're dealing with vulnerable, unsupported people that are in these properties. And it's like the windows are hanging out, you can't open a window in case it falls out! You've got  dangerous, damp conditions, you've got rents that are extortionate, there's just so many different things."
We also spoke with Toby James, 52, who's from the area and has been in temporary accommodation for the last four years and comes daily to NEH. We asked Toby how he felt about the support he received from the charity and if it had improved his life – and he told us: "Exponentially, joyfully and fully!
"I have been building a library recently which has been a very positive experience for me."
Earl Charlton, 43, from North Tees – homeless for nearly 20 years – is now employed full-time by NEH as a support worker. He has been truly shocked by some of the conditions that the homeless are being 'housed' in.
"I came across this lady whose accommodation is truly shocking; actually life-threatening, due to being covered in a thick dangerous mould … and we see unfit conditions like this all the time," he said.
"I asked the lady if she would talk to you directly but she is scared and wants to remain anonymous in case she loses the place – but we have pictures and a video we took of the flat. It is truly horrific."
The woman in question became homeless after fleeing domestic violence, and the video at the start of this report shows the shocking state of her flat.
"She reported the appalling state of the ill-repair for over a year to the landlord. Nothing has been done," said Earl.