THE cold weather that has gripped the North East is expected to continue until tomorrow at least.
Many across Tyne and Wear woke up this morning to the news that the Met Office's yellow warning for snow and ice is to remain in place across the region until midday on Saturday. This came off the back of the nation's coldest night in almost 11 years, when temperatures dropped as low as -10C.
Local councils across the North East have issued reminders about how to stay safe in the cold weather.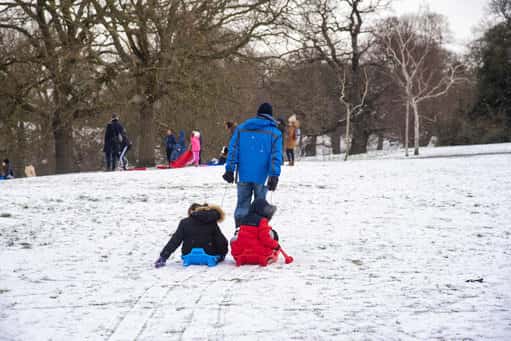 Families have been occupying themselves with snow in the North East – but this has prompted warnings about social distancing.
A statement from Newcastle City Council said: "Please take care. Although not as heavy or frequent as of late, forecasters say snow showers and icy patches could disrupt travel today or lead to slips and falls."
This was echoed by Sunderland's council, which said it is prepared for the challenges of the weather.
A spokesperson said: "Periods of severe wintry weather are not unknown in the North East and the City Council has robust winter services and contingency plans in place."
But the warnings have not stopped scores of people across the region flocking to their local parks and open spaces to make the most of the wintry weather – leading to concerns about the risk these large gatherings could pose to public health in the midst of the national Covid-19 lockdown.
Local authorities are urging people to remember the country is still in lockdown, and have issued warnings to try and ensure that public health measures are kept in place.
A further statement by the Newcastle council said: "We know that many people want to enjoy the snow, but please remember not just to protect yourself from the cold, but from Covid too.
"Please remember while having fun that the virus is out there and to keep your distance from others."
In her weekly update, Sunderland's director of public health Gerry Taylor added: "I would urge everyone who has done such a brilliant job over the last year of sticking to the rules, to do everything they can to help get case numbers down by following the guidance at all times and not letting their guard down anywhere."