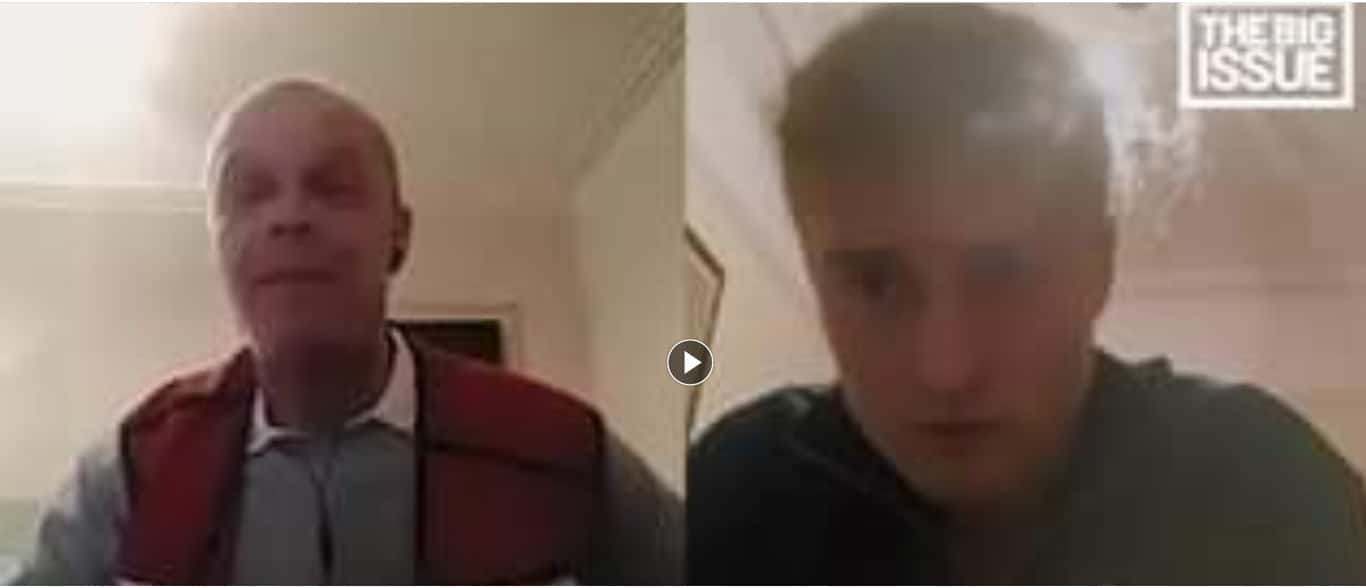 NORTH East music star Sam Fender recently found himself in conversation with one of The Big Issue's long-serving sellers – and said he was humbled by the experience.
The man who left Sam feeling that way was Earl Charlton – who leads a life in stark contrast to that of a globetrotting star and can usually be found selling the magazine outside Newcastle central rail station.
SR News met Earl, to hear the life story which so affected his new superstar friend – sometimes harrowing, often dark, but overwhelmingly hopeful, positive and endearing.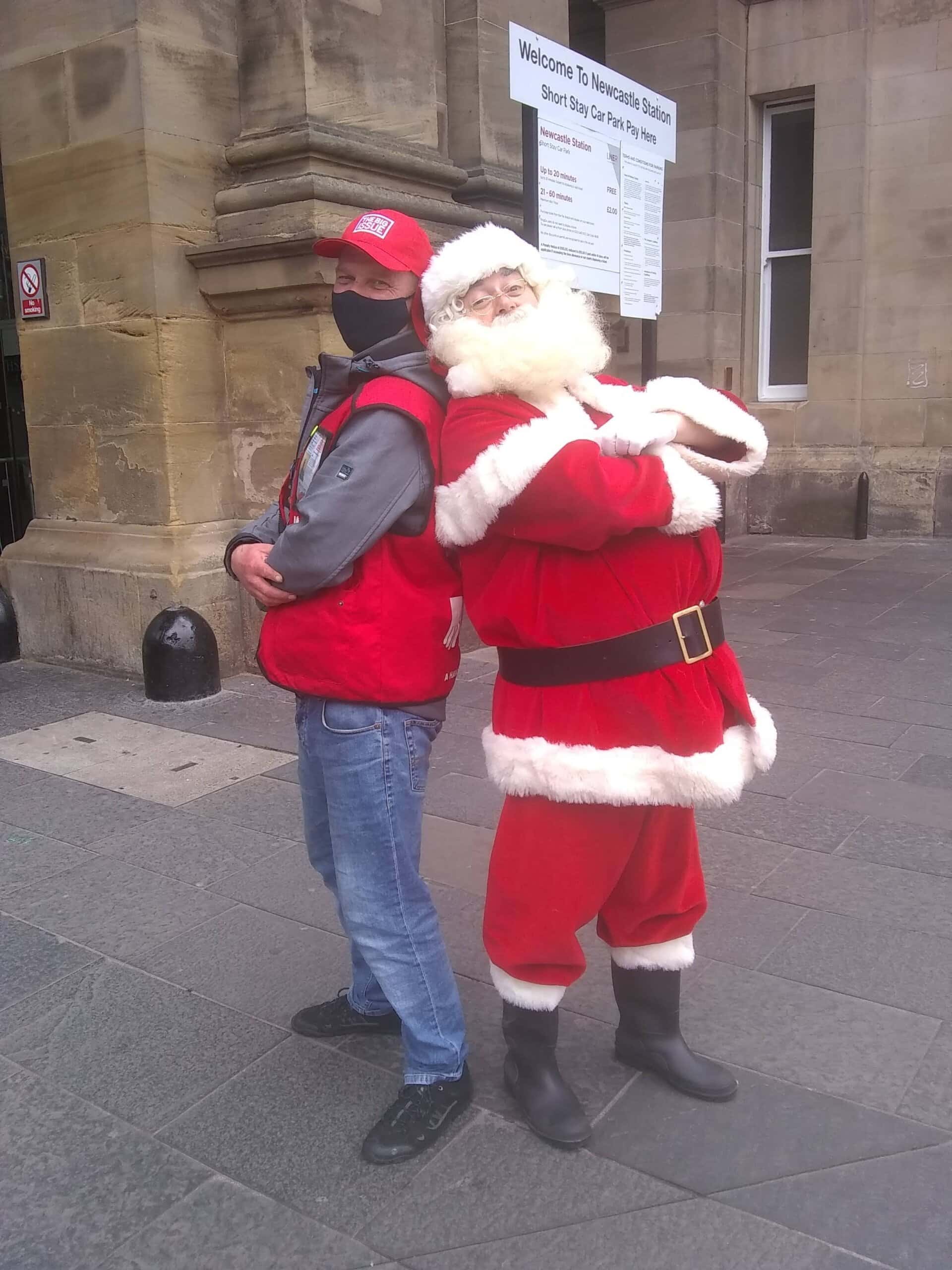 EARL Charlton, 42, from South Shields, has been standing out in all weathers selling 'The Big Issue' for the last 18 years.
Earl's regular pitch is just outside central station in Newcastle. He is an ever-present there and never seems to stop smiling, despite the huge pressures he has faced and continues to face in life.
He has had an extremely tough life by anyone' s definition of the word 'tough'.
Earl spoke to SR News about how he was brought up against a background of alcoholism and domestic violence, and says he remembers witnessing this from the age of just three – a harrowing start.
He then said he went on to be mercilessly bullied at various schools in the North East, for nothing more than the name his father gave him – 'Earl'.
"I was named after Lord Earl Mountbatten," he recalls.
The bullying chant of 'Earl the Girl', as his tormentors cruelly called him, would eventually lead to him fighting back against the bullies and getting expelled from school at 13.
"I just flipped one day. Enough was enough," said Earl.
Periods in care, a string of violent stepfathers, interjected only briefly by periods of kindness from foster parents, who Earl described fondly as "lovely people", would see him run away continually as a young teenager.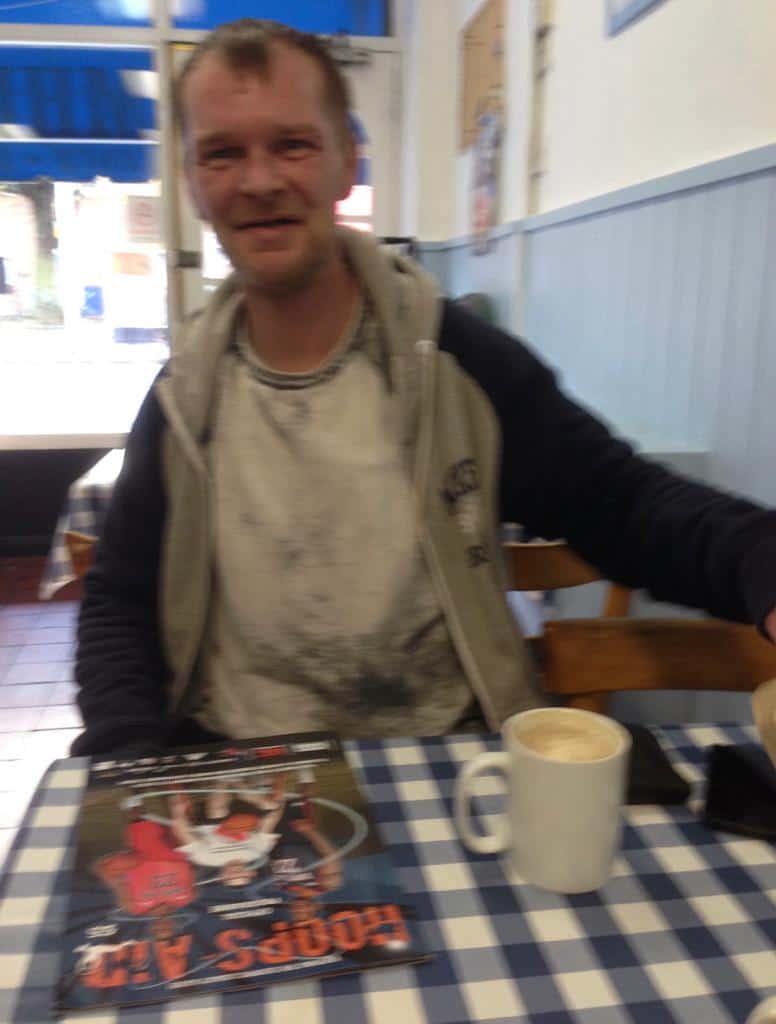 Left to fend for himself on the tough streets of London and Bristol, Earl would fall prey to a group of older men, who he said used him to aid their criminal enterprises by encouraging him to break into various pharmacies, while supplying him with drugs.
This introduction into the world of hard drugs would eventually see Earl commit a string of burglaries to feed his growing habit.
"I started on one £10 bag of heroin a day, and before I knew it I was up to needing £40 to £50 a day. I didn't even know the difference between 'smack' and 'crack'. I was so naïve looking back," he said.
The inevitable decline into hard drugs was not his only challenge, as young Earl was then prescribed anti-psychotic medication and increasing amounts of methadone.
These only exacerbated the problems he faced and would ultimately see him face lengthy periods of incarceration in prison.
"By 2014 I was still on the drugs, but on top of this I was drinking 15 to 20 cans of super-strength lager a day and taking massive amounts of methadone."
Earl has battled his addictions and demons and is now five years by his own admission, 'clean', and is a man on a mission. Some of his recollections are clearly painful, but throughout it all he smiles and passionately talks about how he wants to help people in the same situation.
He has just had some of his poetry published and has plans to work on a book.
Then there is the interview with singer Sam Fender, who Earl could not speak highly enough of, as he called him a 'genuine bloke'.
His voice is full of gratitude when he explains the singer's backing of 'The Big Issue Christmas Appeal'.
As the interview draws to a close, Earl looks me straight in the eye and said: "People in life sometimes need a leg to lean on as a crutch. I needed an octopus! Thankfully, I found one."
He goes on to name a string of, in his words, "amazing people" who have helped him. His eyes fill with tears, and you sense those tears are heartfelt.
After 25 years of being homeless, Earl's spirit is not only endearing but humbling – as Sam Fender himself discovered while in conversation with Earl, in support of The Big Issue Christmas Appeal, which is under way and looking for help from the public.
You can watch Earl's conversation with Sam Fender here. 
So what would Earl like for Christmas?
"A meal and two presents to open for me and my girlfriend," he smiles and leaves – not only the building – but a lasting impression on this reporter.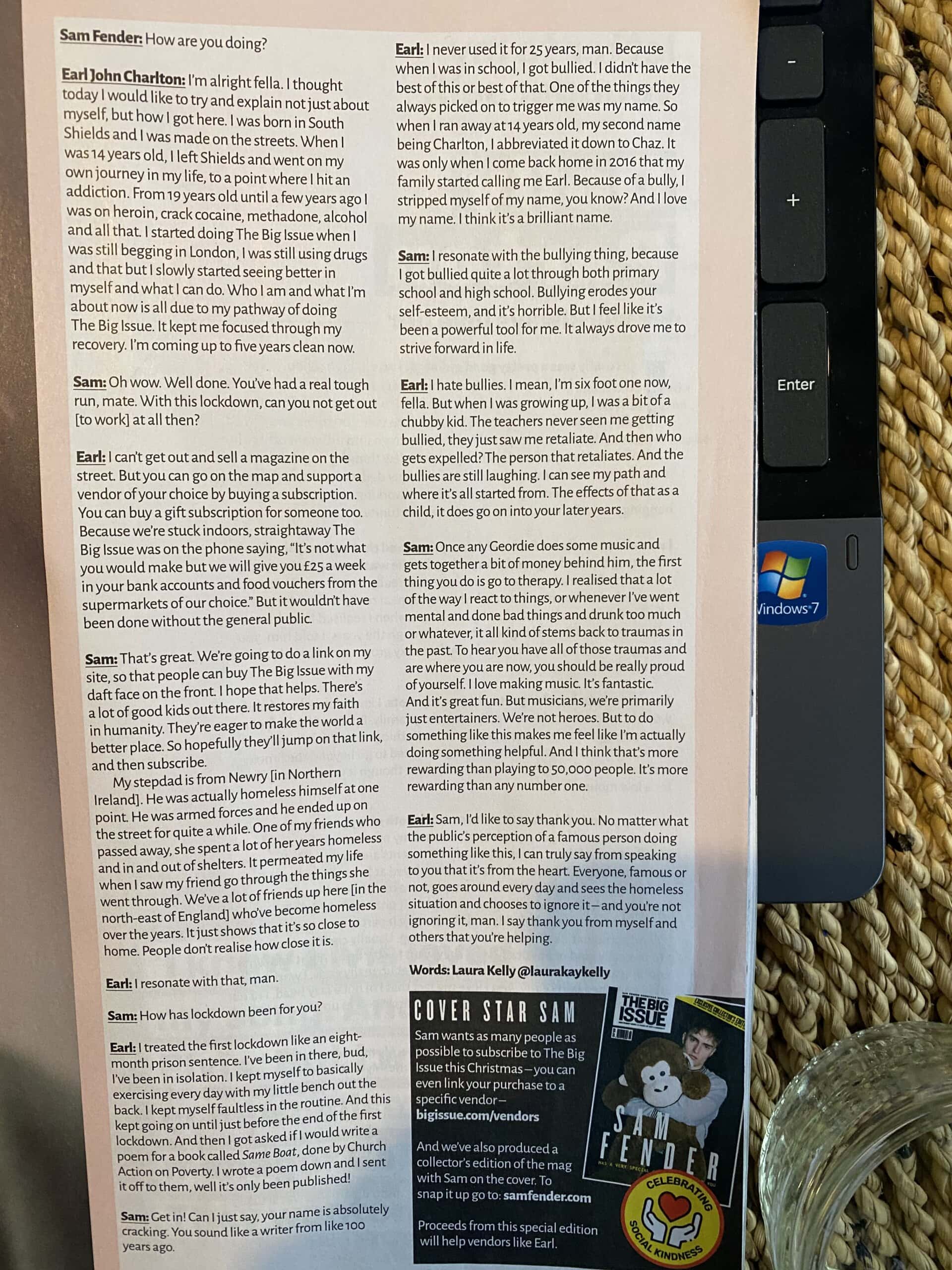 Below is one of Earl's published poems from 'Action on Poverty'
'No bars'
There will be no bars on my window tonight
No security system to shut off my light
I'm a free man.
I soar on the smoke in the breeze of the light
Curled on a park bench, covered in shite
I'm a free man
I shouldn't be begging!