SPARK radio superstar Emma Millen picked up four Student Radio Awards this year – including Best Presenter of the year – proving that she is one of the biggest up-and-coming young DJs in the country. 
The news underlines Spark's status as a multi-award-winning platform for the University of Sunderland and – in the week that station alumnus and Radio 1 DJ Jordan North entered the 'I'm a Celebrity' show – a training ground for future national talent.
Emma, 23, has worked at Spark for four years -and hosts the Friday drivetime slot, produces Dance Revolution and is also head of digital. 
The SRAs are a point of pride for aspiring broadcasters, and are normally held at the O2 in London, but this year were virtual because of the pandemic.
"This was the first time that I have ever even been nominated," said Emma.
"I did win a Bronze last year for the Kevin Greening Award of Creativity, which was amazing. However, to pick up four awards this year is overwhelming and I still can't believe it."
Of the four award, two were Bronzes and one was Silver. However, the Gold Award for Best Presenter was even a shock for Emma.
"To win gold for Best Presenter was the absolute dream come true, as this year it was a brand new award: previous years have been split to best male and best female but this year they combined the two.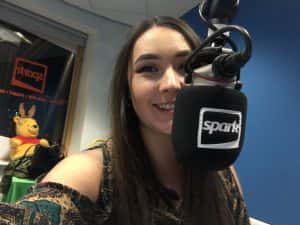 "I always thought that I would maybe have a chance of bagging the best female but never best person, but look what I have only gone and done! 
"It's been extremely difficult to be recognised in this industry, even more now with Covid, but I hope that something good can come out of this year for my career."
Emma also picked up awards for her coverage of International Women's Week, Best Entertainment Show and Best Interview – in an impressive showing. 
"I have been a member of the Spark team for over four years and have loved every minute of it!" she said.
"Spark has allowed me to grow as a presenter and totally find where I want to be in the radio industry, as well as a person.  
"The most important thing I have taken from this whole experience is to always be yourself! 
"I have always thought that I would have had to change the way I am to fit into what the radio industry is looking for … I am basically a Geordie lass that speaks funny, but it seems to be working for me."
Emma was keen to heap praise on her colleagues at Spark – and thanked them for helping her become the presenter that she is today.
"I want to say the biggest thank you to Spark for being the amazing platform that allows me to be that funny Geordie lass.
"The support and experience you gain from being a part of this amazing team is second to none and it is the main reason I decided to come to Sunderland."