Search 'US Election 2020' to see all our coverage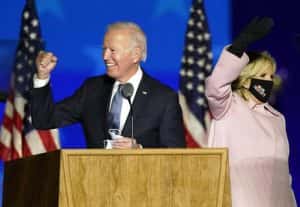 WHILE  the votes are still being counted for the 2020 US presidential election, one victory has definitely been secured.
Former US Vice-President Joe Biden has garnered a record number of votes surpassing Obama's 2008 popular vote of 69,498,516.
At the time of writing, Democratic hopeful Joe Biden has garnered 72,110,951 votes votes according to the New York Times.
Current U.S. President Donald J Trump has beaten his 2016 record of 62,984,828 votes with 66,969,685 votes.
While Biden may have secured a major lead on the popular vote, he still needs to keep his current electoral college lead of 50 votes on the fight for the final 72 seats.
The former Vice President's record is likely to be a direct result of this year's exceptionally high voter turnout, which is on track to being one of the highest voter turnouts in the last century.
The eventual winner may not be announced for weeks pending the counting of the mail-in votes, most of which are expected to be supporting Biden.