The past few days have seen a storm of controversy around apparent Government 'contempt' for the UK's arts and creative industries (A&CI).
The perception that ministers see careers in A&CI as somehow 'disposable' was reinforced by a government advert which said in these hard Covid times, creatives like the ballerina in the ad (that's her above) should abandon their careers for more 'conventional' work – like 'cyber'.
The outcry against this apparently flippant dismissal of creative careers has been wide and furious.
Since SR News is based in the University of Sunderland's Faculty of Arts & Creative Industries, we are exploring the controversy through the eyes of those directly involved here in the North East.
Today, Connor Bromley speaks to Professor Arabella Plouviez, dean of the Faculty of Arts and Creative Industries at the University of Sunderland – who accused the Government of 'stupidity' in its recent handling of the situation.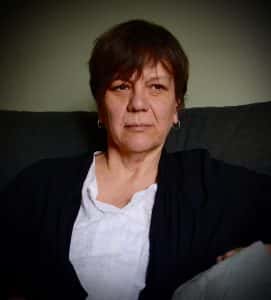 ARTS and the Creative Industries have been gravely impacted during the Covid-19 pandemic, but how will they bounce back?
In 2018, the sector contributed £111billion to the UK economy, and is responsible for nine per cent of UK jobs.
Yet the Government's attitude feels like a slap in the face to all those who put their heart and soul into education and careers in the sector.
So, in light of the recent messaging, how should a student or graduate feel about their A&CI degree ? 
Prof Plouviez said: "If you study a creative degree, it's usually because you are passionate about the subject – but how do you make money as a freelancer?
"It's challenging … and always has been.
"Students always think carefully and thoughtfully about what they are studying and why, and how that will help them progress and do what they want to do."
She added: "I hope that students will make those decisions informed not just by some of the populist information in the press, but actually informed by a broader picture than that. 
"It won't stop people studying things that they are passionate about, and they shouldn't stop because of the pandemic."
Often it is forgotten just what the creative industries provide, and most people are engaging with creative content on a daily basis.
Music, artwork, photography, videos and TV shows are the product of creative industries.
Prof Plouviez stressed that the A&CI are vital to the culture of any country.
She said: "It is worth saying that before the pandemic, the creative arts industries were the fastest-growing in the British economy. 
"One in 11 jobs are related to the creative industries – so it is a huge part of the economy that is very rarely referenced by the Government. It is a key part of what we do in this country. 
"More than the economy, creative industries are important to what makes us human."
She added: "It covers so many things, but it is a key part of the imagination and creativity that makes us human."
The government has offered support for the industry, through grants, but also scored an own-goal with their suggestion that people in the arts should find new careers.
An advert featuring a ballerina (re-purposed for our coverage branding, above) went viral, as it was suggested that she get a job in cybersecurity.
Prof Plouviez, like many in the industry, found the image offensive.
She said: "I felt that the picture was trite. 
"I thought it was a very classic example of stupidity when something like that is published by the Government.
I was horrified by it."
"On so many levels it is meaningless and offensive, because sometimes people forget how much commitment and time it takes to perfect what they do. It isn't something that you just do, it is something that you learn and perfect. 
"The idea that you could be a ballet dancer and then just change career left me speechless."
There is a perception of people in the arts that they are essentially partaking in a glorified hobby, but the reality is that A&CI are vital to our economy.
Prov Plouviez was keen to stress that careers in this industry are still viable.
She said: "I think, even without Covid, that there is a hierarchy around subjects and some are seen as more valuable than others. 
"The pandemic is a real challenge and is challenging people in different ways and how we see the future.
"Really there is a much more viable and sustainable future in the creative industries – almost 80 per cent of the jobs in our industry are impossible to automate. 
"For me, I think that people need to do things that inspire them and make them alive – and, for so many people, creative industries are what keeps them moving forward and engaging with the world."