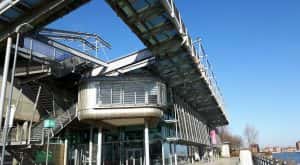 SUNDERLAND Culture has been awarded £341,777 as part of the Government's £1.57 billion Culture Recovery Fund (CRF) to help face the challenges of the coronavirus pandemic.
Sunderland Culture is one of 1,385 cultural and creative organisations across the country who have received some much needed support.
£257 million of investment has been announced today as part of the very first round of the Culture Recovery Fund grants programme being administered by Arts Council England.
Suzanne Davies, the development manager for Sunderland Culture, said: "It's a really welcomed investment for Sunderland culture, and will support us over the next six months."
Sunderland Culture delivers the cultural programme in Sunderland Museum & Winter Gardens, Arts Centre Washington, National Glass Centre, Northern Gallery for Contemporary Art and the Fire Station, as well supporting the development of creative industries in the city and delivering city-wide cultural events and projects with local communities.
Mrs. Davies said: "Culture is vital for every city. It makes the place that you live, whether you live work or play an exciting and enjoyable place to be.
"Lockdown would've been so much bleaker if we hadn't have had creativity around us all."
Lockdown has impacted the way in which Sunderland Culture and its venues operate, introducing online programmes and different ways to deliver culture to the city.
Due to facility closures, many of the venues have had to move their exhibitions online.
The Heritage at Heart online exhibition is available until March 2021 and it examines the links between Sunderland's industrial past and artworks from the Arts Council Collection.
Other centre such as the Sunderland Glass Centre have re-designed their traditional Blow Your Own Christmas Bauble event to an online Design Your Own Christmas Bauble Experience.
Mrs. Davies said: "Lockdown had a massive impact but we've taken the opportunity to pivot what we do to still reach those people that want to enjoy the cultural programmes.
"We commissioned some writers to write some new stories, we put films on our website, and made takeaway packs for children to do at home."
Sunderland Culture hopes this fund will enable the company to continue its work to strengthen the city's cultural economy, increase cultural participation and ensure culture plays a key role in the city's recovery from the impact of the Covid 19 pandemic.
Mrs. Davies said: "Not everyone is able to visit at the moment. Not everyone feels comfortable to visit so it's vital we are able to provide different ways that people can enjoy arts and culture in the city."