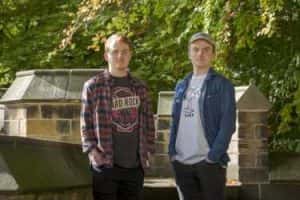 TWIN brothers Brett and Ross Billingham are proving that they're identical in every way – even down to the degrees they've chosen to study at the University of Sunderland.
The 22-year-olds' long held interest in art and graphics led them both to study a BA Illustration and Design degree – graduating in 2019 alongside one another with exactly the same 2:1 grade.
They then chose to further their skills with a Masters in Design and are now both showcasing their work at the annual MA Degree Show, with entries demonstrating their individual skills.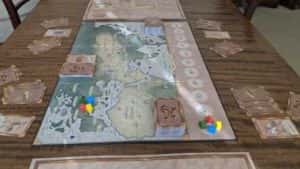 Brett, who chose to study the MA Design because he wanted to take more time to develop skills to move into the industry, explained: "My project is a board game called Golden Roads in which players take on the role of Venetian merchants in the 13th century and travel around the world, with the goal of finishing the game with the most gold. 
"My inspiration for this was the stories of Marco Polo, and famous Venetian merchant in the 13th century who was one of the first to travel to the Far East. I discovered his story through the Netflix series, Marco Polo. I was fascinated with his story and decided to research further into it, I even travelled to Venice to see the location where his house once stood.
"This was in 2016, and I knew that I would want to do something with this theme one day."
Meanwhile Ross, who needed more time to explore ideas and improve his design skills with the MA Design, before entering the world of work, explained the idea behind his project.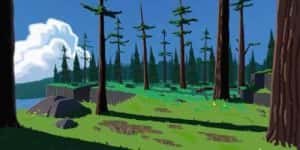 "My entry for this year's degree show is a virtual reality experience, taking place in a forest environment. The main purpose of the experience is to bring people closer to nature virtually, aiming to increase environmental consciousness. I love designing new worlds for people to escape to, so I was very excited to work on a VR experience."
Asked how they coped during lockdown, as they continued their studies, the brothers say the experience gave them a chance to bounce ideas around and support one another.
Brett said: "I've coped well during lockdown and I have taken it as an opportunity to work even harder. I think artists/designers are lucky because they're able to produce work from home."
Ross added: "Lockdown was difficult, a lack of routine made it hard to concentrate on work. But it also gave me more time to reflect and focus on my creative goals."
It's not only in the in the classroom where Ross and Brett have been making an impact at the University, the pair, from Gateshead, are also Second Dans in Karate and have been competing with Sunderland BUCs, on the Elite Athletes Scheme.
Ross said: "We have both been doing karate now for the last 11 years, it something we really enjoy doing, competing in tournaments, and supporting one another. "
It's no surprise that the brothers also both hope to work in the visual development industry once they graduate and haven't ruled out working together on projects if the opportunity arises in the future.
All the students' MA Degree Show work is available to view at www.sunderlandcreatives.co.uk