Following Prime Minister Boris Johnson's announcement that from Wednesday: "you can play sports, but only with members of your own households," Sunderland residents heading to local parks may be surprised to find sports some facilities remain locked up.
Sunderland council have said facilities such as tennis courts, football pitches, and multi-courts in the city's parks will remain locked up "until appropriate social distancing measures are in place."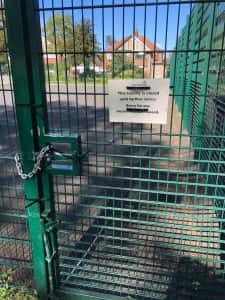 On the decision to keep these areas closed, Sunderland City Council responded, saying that: "the Government's guidance was clear that play areas and outdoor gyms in park areas were to still remain closed.
"This was detailed in Monday's 50-page document and so at this point in time, those council facilities remain closed.
"The guidance also referred to only taking part in activity with one person so facilities that are for team activities cannot look to open again until the appropriate social distancing measures are in place."
Sport and exercise sciences student, Kyle Ritchie, went home disappointed after going to Barnes Park to play tennis.
The 20-year-old said: "I thought it was clear from Boris Johnson's announcement that tennis courts would be back open.
"I was looking forward to playing some sport again with my housemate after a couple months of running.
"Even on the council's twitter account it mentions tennis as an example of exercise people can do.
You can find the government's full guidelines here: