Voda has launched a Happy to Chat scheme this week in North Shields and Whitley Bay to help combat loneliness in the community.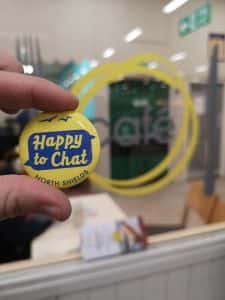 On Tuesday January 28 and Thursday January 30 Voda launched its new campaign.
The scheme, in which volunteers head out into the community wearing a 'Happy to Chat' badge, has been introduced in a bid combat loneliness and social isolation in North Tyneside.
Josie Robinson, Project Co-ordinator of 'Ending Loneliness' at Voda said:
"The Happy to chat scheme is for anyone and everyone who would like to chat and meet someone new.
"Unfortunately, loneliness does not discriminate, we have met people from all walks of life who find meeting new people and building genuine connections difficult.
"By having a friendly, informal place to have a chat, meet new people and build connections, we hope that Happy to Chat can support people to think about other activities or groups they might like to attend in addition to Happy to Chat."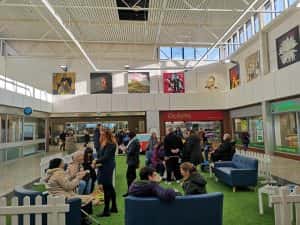 Launch day at North Shields 
The scheme will run in North Shields in The Beacon shopping centre fortnightly on Tuesdays between 10am- 12pm and in Whitley Bay in the Big Local community centre every Thursday.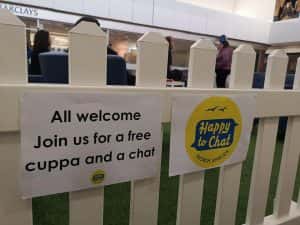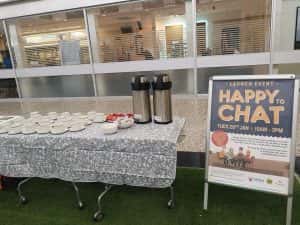 Launch day at North Shields 
Josie Robinson added: "we're excited about the prospect of getting local cafes signed up to host a Happy to Chat table. This means a designated table will be available for people to have a seat and chat away to someone new."
A spokesperson for Whitley Bay Big Local said: "The scheme is for those who want to make a difference in their community, to make connections and offer a listening ear to those who don't have many others to talk to.
"We hope to change the culture of passing by strangers and encourage people to open up and chat to each other to create a friendlier and happier community."
If you would like to go along or know someone who would benefit from this scheme it is completely free to go along on the day.
Alternately, if you would like to get involved with Voda and become a volunteer visit Voda.org.uk or call them on 0191 643 2626