Newcastle College student Abby Hillyer has set up new initiative aimed at helping women and non-binary people break into the music industry.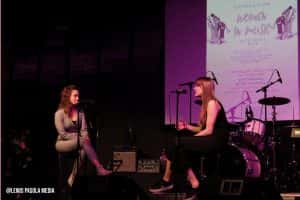 Soundlass was created from a passion of getting women into the music industry after a successful all-female music event was set up by Abby herself, including all female/non-binary sound and light engineers, musicians, photographers and crew.
The Soundlass project will be primarily based in the North East but is for all ages and all experience levels, with hopes to try and branch out nationally in the future.
In the past she has worked with all-female, North Eastern bands such as Bigfatbig, Sing Again Siren and Beccy Owen and The Refuge, as well as working with Kay Grayson, one of the leading artists in Newcastle's hip-hop scene.
In regards to the industry, Abby said: "The women in music that do exist are almost an underground scene, and I want to bring that to light and show that there is a community and we're so cool!"
This project comes from Abby's love for music and the hardships she faced when choosing her sound technician pathway after experiencing male-dominated classes and blocked opportunities throughout her education. Fighting against sexism, Abby completed her music tech qualification at school and continued her career path.
Sophie Purviss, drummer for Primary Colours, said: "Abby was very successful at organising a unique event, I would 100% work with Soundlass again – a lovely person with a lovely message."
After creating a concert without funding and with the help of volunteers, Newcastle College's events team have offered Abby some funding to create a festival featuring another all-female/non-binary team using the college's venues with plans to take place in May or June.
Soundlass is also set to start a series of podcasts with local North East women in music to discuss experiences and current controversial topics in music to highlight intimidating issues in the industry.
Follow @soundlass on Instagram or search 'SoundLass' on Facebook for more information and future content.
All images courtesy of Soundlass.