Prime Minister Boris Johnson visited the Ferguson transport factory in Washington on Monday to appeal to voters to support him in Thursday's general election.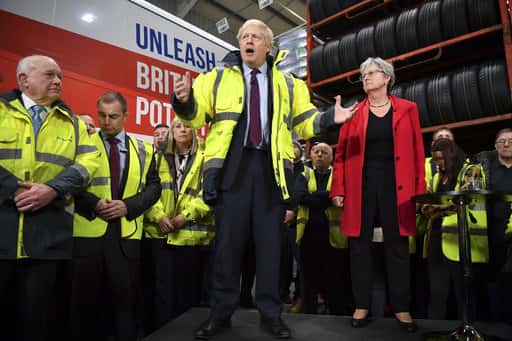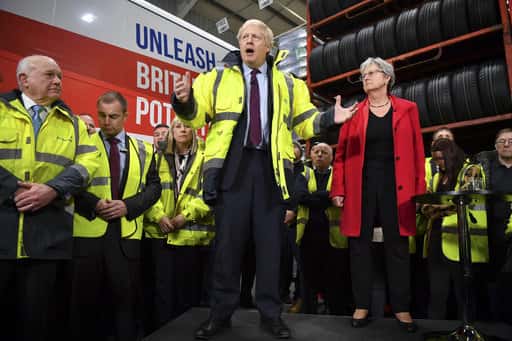 The Prime Minister was also joined on the stump by former Labour MP for Birmingham Edgbaston Gisela Stuart, who said: "To vote Labour is a family tradition in the North East, but I encourage all of my Labour colleagues to vote for Boris Johnson on Thursday, to get Brexit done and bring this country back together."
The Prime Minister delivered his well-rehearsed key campaign messages to the crowd in his customary style, saying: "We have a deal as I like to say its oven ready, if we win this election the Brexit deal will be done before you have your Turkey and sprouts."
Johnson went on to say that: "We must get Brexit done, people want to take control of their laws, borders and money. Apart from this we must get Brexit done for the sake of the economy, as there is simply too much uncertainty."
A General Election in December is never an easy sell to the public when its cold and wet, but the Prime Minister clearly thought there was no choice this time, explaining: "There has been far too much drift, dither, delay and procrastination. Parliament has refused to get Brexit done, its paralyzed."
During his speech to the crowd the Prime Minister made further pledges should he be returned to 10 Downing street on Friday morning, he said: "We are going to have 20,000 new police officers, the largest ever investment in the NHS, and we are going to level up funding for schools across the country." However as reported in the Chronicle, Washington & Sunderland West candidate Sharon Hodgson lead a demonstration against the Prime Ministers visit, outside of the Ferguson factory in Washington, Hodgson said: "Johnson promises nothing substantial to the North East, he is just paying lip service to the people of Sunderland."
Although the Prime Minister's visit did largely go to plan, however he did get rather flustered when Ferguson worker Page Hood held his feet firmly to the fire on the issue of fake news, she asked: "Why is there a Conservative party website on Google that deliberately makes it harder to find the Labour Party's manifesto?" The Prime Minister responded by saying: "Well the short answer is I haven't got the foggiest idea. As I far as I understand it there's an awful lot of activity on the internet trying to promote one type of news or another." He then went onto say in response to the original question: "If you want to look at our manifesto its available online – it's a great manifesto."
With hours to go we will see if the Prime Minister's strategy of targeting vote leave areas pays off. If so, he will secure his majority and be returned to number 10. However, if he can't persuade the Labour vote leave voters in particular to go blue, he's in trouble and we could be looking at another hung parliament.