South Shields MP Emma Lewell-Buck has lashed out at the Government for high levels of food insecurity, in both her own constituency of South Shields and in the rest of the United Kingdom.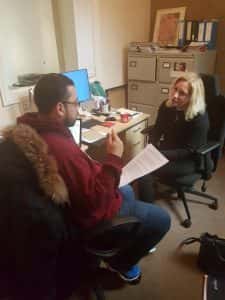 The MP, who has been representing her constituency in Parliament since 2013, said: "We have a lack of welfare reform, punitive sanctions, insecure work and most of all we have a Government that does not care about the people it governs. The Governments' austerity policies have tipped many families into destitution, and are crushing those at the bottom."
The MP is a founding member and trustee of the charity Feeding Britain, a charity that provides help to low income families in towns across the United Kingdom, including South Shields. Their fun clubs and holiday clubs provide broth bags and recipe cards to help feed families and make what they have got stretch as far as possible.
Lewell-Buck said: "The Government is leaving many families hanging out to dry, and many charities like Feeding Britain and faith groups are having to step in and bridge the gap."
From the backbenches, the MP has been fighting food insecurity. In 2017 she was able to get a private members bill through parliament; this bill will now force the Government to start to measure food insecurity.
Lewell-Buck said: "This bill ensures politicians stop using the issue of food insecurity as a political football and that better policies are developed. Furthermore, it importantly holds the Government's feet to the fire."
Many organisations back up the MPs claims about food insecurity and the struggles of low-income families. A UNICEF UK report shows that 10% of children in the United Kingdom under 15 are in severe food insecure homes. Furthermore, it shows that the United Kingdom is the worst in Europe for its ability to feed its children under 15. For a country with the fifth largest economy in the world, these are alarming statistics and something that could effect wide patches of society.
Lewell-Buck said: "All Governments have choices and that if all of the wealth goes to the few than the rest will suffer, through this Government there has been increasing inequality and poverty."
Food insecurity certainly isn't helping children in the classroom either, the lack of food is affecting the cognitive development and concentration levels of our children at this crucial time in their lives. The lack of food has also been linked to causing behavioural issues with children.
Lewell-Buck said: "Many teachers have told me that they have seen children foraging in bins for food, and some teachers are having to dip into their own pocket to put clothes on the backs of the children."
For full details of how to give to Feeding Britain visit www.feedingbritain.org