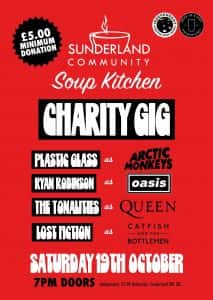 Four local Sunderland artists are set to play cover sets as four famous bands for one night only in the hope to raise funds for Sunderland Community Soup Kitchen.
Plastic Glass are playing as Arctic Monkeys, Ryan Robinson is playing as Oasis, The Tonalities are playing as Queen and Lost Fiction are playing as Catfish and the Bottlemen.
The event is taking place this October at Sunderland's only live music dedicated venue and club Independent.
Sunderland Community Soup Kitchen are a group of volunteers who freely serve fresh home cooked style evening meals seven days a week for hungry people in Sunderland.
Aram Stuart, the events promoter said: "it's something a little different so I'm looking forward to it. I remember going to something similar called Stars have Eyes when I was younger – bands like Little Comets, Kubichek, The Futureheads and Frankie and the Heartstrings all covering bands they liked. We have created the show so it appeals to a wider audience and will hopefully gain some new costumers from it".
Fans of the four well known bands who maybe haven't had a chance to catch the real deal in person are encouraged to come along and enjoy some great live music whilst supporting a fantastic local charity.
Independent Sunderland and Sunderland Community Soup Kitchen are aiming for an attendance of 50 guests and are hoping to raise £300 for the soup kitchen.
Brandon Stewart, guitarist and backing vocalist of the Tonalities said "I am very excited for the show to be raising money for Sunderland Community Soup Kitchen. It's a great experience to be able to help and be a part of. Playing Queen for the night will be so much fun; myself and the rest of the band cannot wait".
The event is taking place on Saturday 19th October at Independent, 27-28 Holmeside Sunderland, SR1 3JE with a £5 minimum donation on the door.