Newcastle Fans TV and BoroFan TV, two YouTube channels, have come together to organise a charity football match for the Sir Bobby Robson Foundation and the Gary Parkinson Trust.
The two charities mean so much to the respected clubs. Sir Bobby Robson, who was from the North East, managed Newcastle United from 1999-2004 and it was his final club in a glittering managerial career. After retiring, Robson launched the Sir Bobby Robson Foundation in March 2008 and the Cancer Trials Research Centre was set up in the Freeman Hospital in Newcastle-upon-Tyne.
Gary Parkinson made over 200 league appearances for Middlesbrough from 1986-1993. In 2010, the former player suffered a stroke which led to a diagnosis of locked-in syndrome.
"Boro Fans TV has previously supported charity events such as the Boro Walkers Charity and the Teesside Family Foundation, but never a joint event with a rival football team," says Boro Fans TV founder, Ian Ross.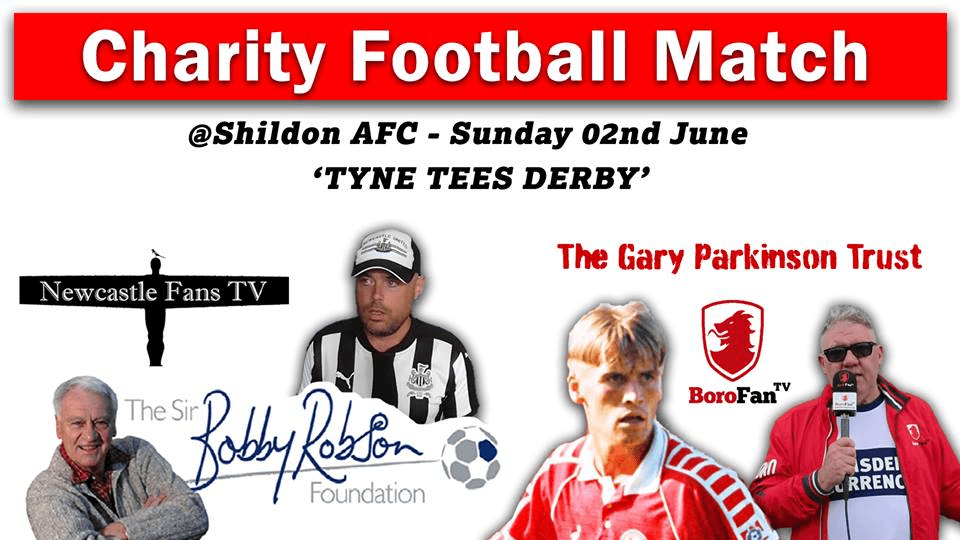 Lee Lawler, the founder of Newcastle Fans TV, said: "A lot of fan channels get bad press and this partnership has allowed the opportunity for good press and hopefully that will help raise money for two great causes. Sir Bobby was a wonderful man. Forget about the football, focussing on the man himself, he was wonderful."
Mark Betham, also of Newcastle Fans TV, added that the partnership shows that rivalries and differences can be put aside for the sake of charity.
Liz Luff, a representative of the Sir Bobby Robson Foundation, stated: "I think what is particularly special is the fact that it is football fans who have chosen to support us on this occasion and that is always particularly good for us and something that Sir Bobby would have enjoyed very much."
Talking about the work of the Sir Bobby Robson Foundation, Liz Luff went on to say: "The football analogy that I use seems very appropriate. When I think of the Sir Bobby Robson Foundation, it is like you need every player on the football pitch to be doing their job and I see the Foundation as the striker – always pushing forward and attacking.
"The concept of teamwork meant a lot to Sir Bobby throughout his career and this was as equally important when it came to the Foundation in the sense that we are one huge team. As Bobby called it, his last and greatest team."
Shola Ameobi, the Former Newcastle United player, began his senior career in 2000 under the former England manager and the Nigerian forward held Robson in the highest regard. Ameobi, who also works closely with the Newcastle United Foundation, said: "He loved people, he loved to have a positive impact on everyone and that's what the Foundation is all about. It is about affecting the lives of others in a positive way.
"I love the fact that his name lives on. I had the privilege to work with him for so long and kept in touch with him after he left Newcastle. He really affected me and I just want to do the same, I want to help the Sir Bobby Robson Foundation as much as I can to help those who can't help themselves and make a positive mark."
It has been decided that the match will take place at Shildon Sunnydale Stadium on Sunday, June 2.