From Britain's Got Talent winners in 2014 to musical theatre legends, the audience of the Sage Gateshead were enthralled by musical theatre sensations Collabro on Monday night.
Accompanied by special guest, Kerry Ellis, an actress and singer who is best known for her work in 'Wicked' and 'We Will Rock You', Collabro received a standing ovation from their Newcastle audience for their rendition of the song 'A Million Dreams'.
Collabro sang an abundance of Les Miserables songs, such as: 'Bring Him Home' and 'Stars'. Kerry Ellis even remarked on stage that it was one of the best renditions of 'Bring Him Home' she had ever heard.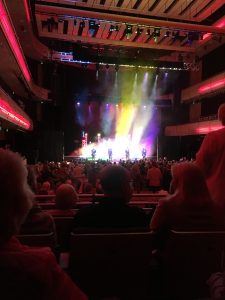 Photo Credit: Katie Baggott | Collabro singing a Jersey Boys medley before the interval
They triumphed in the 2014 Britain's Got Talent semi-final heat with over 63 per cent of the votes, then won the overall competition with one of the biggest majorities ever.
In the five years since the competition, Collabro have released 'Stars', a Number 1 debut album, followed by 'Act Two' which peaked at Number 2 in the charts in the summer of 2015. They have performed at the Royal Variety Performance, twice on Britain's Got Talent and are now enormously successful internationally.
Since their win on Britain's Got Talent, Collabro have completed two tours of America and signed a major US record deal. They recently toured as the special guest spot on Barry Manilow's UK Tour, and with a 2019 51-date UK tour of their own in the pipeline further affirms their position as the most successful musical theatre recording group in the world.
The musical theatre group have a very enthusiastic fan base, known as the 'Collaborators' and the audience participation at their Newcastle concert was second to none. The audience enjoyed the greatest hits from musicals such as: Wicked, Miss Saigon, Evita, Les Miserables, The Greatest Showman and even a Jersey Boys medley before the interval.
Collabro finished their musical numbers off in gold sequinned jackets and sang and danced to hits by the Jackson 5 and Marvin Gaye.  It was a night for all the family to enjoy, which ended with the audience dancing and an overwhelming standing ovation for the musical theatre group.
It was a truly spectacular finish to the show.