We all get excited when it comes to Valentine's Day. Candles, savoury food, chocolate and roses can be found everywhere to make the atmosphere perfect on February 14.
SR NEWS gives you some tips on how to get the most out of your V-day.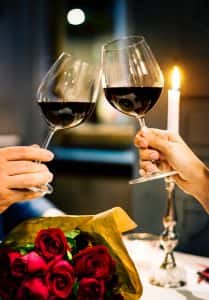 People may spend the night in a fancy restaurant but you could think of something different. Well, you can always cosy up in your home and give it a little bit more touch of romance by simply choosing the right stuff.
Food
For sure, food is one of those things that can either lead to the best night of your life or the biggest nightmare on Valentine's day.  Choose wisely, but make sure you prepare the most mouthwatering dish your partner has ever tried.
For the purpose, we have compiled the perfect dish for an eventful night recommended by chef Stoyan Pehlivanov.
"If you are preparing a meal at home Salmon Ceviche as a starter would be perfect because it does not require any heat. Then you move on to the main course which would be a Steak with a Pure of Sweet Potatoes and Vegetables and you end up eating French Chocolate Souffle as a dessert. That is my secret weapon for an eventful night."
Wine
What is Valentine's if you don't raise a glass of wine with your partner, simply not the same? We have managed to contact with one of the best sommeliers in London for 2018.
Jolanta Dinnadge was chosen as one of the best sommeliers not only in London but in the whole UK, she is now head sommelier at Corrigan's Mayfair – restaurant for modern British cuisine, located in London.
"I would strongly recommend Gérard Bertrand NV Ballerina Brut Étoile Rosé."
"Crémant de Limoux. The delicate pale rose colour is inspired by the sunset as seen from the rooftop of the Paris Opera."
"The bible is delicate, frothy and persistent with subtle aromas of red berries and white flowers."
"Long finish with soft and creamy notes."
Playlist
You may be listening to Drake's new album but it is time to change the playlist for Valentine's day.
Declan Garner, programming assistant at Spark Sunderland Radio Station said: "You can never go wrong with a Spotify playlist when it comes to national holidays. Christmas, Valentine's you name it. You can even tune into Spark Sunderland today and listen out for some top Valentine's tracks."
Movie
We couldn't leave you with empty hands on this day, that's why we've hand-picked the best movie suggested by Steven Canon, a senior lecturer in Film Studies at the University of Sunderland.
"The film I'd recommend would be Gregory's Girl (Bill Forsyth, 1981)."
"Not only is it a funny and charming account of an awkward teenager's first love and infatuation, with a great cast of young actors from the Glasgow youth theatre and older, established Scottish comedians but I also saw it with my now partner on a double bill at Wolverhampton Odeon, when we skipped lectures for the afternoon."
Happy Valentine's Day from the SR News team.