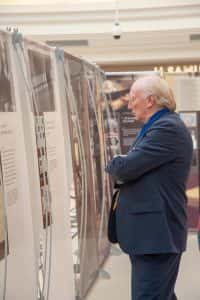 The Bridges Shopping Centre in Sunderland will be hosting an exhibition telling the life and story of Anne Frank, the teenage diarist who wrote at the time of the Holocaust.
The exhibition was opened by the Mayor of Sunderland, Cllr Lynda Scanlan, who said: "It's something that we should never forget.
"It happened a long time ago, but is something that must never happen again. All children must come and see this because they have to see what happened when interfaith doesn't work. Now we have such a wonderful interfaith community and people are getting together much better than they used to years ago.
"I think it's a real inspiration that this has been brought to Sunderland."
The exhibition is usually brought to schools and works on a peer education model where older students bring younger students around to explain the story of Anne Frank.
Grace Dunne, of the Anne Frank Trust, said:
"I hope that people will see that even though Anne was an extraordinary writer, and an extraordinary young woman, in many ways she was just an ordinary teenager. She had friends who she had fallen out with, she had arguments with her mother. She got very stressed when she was in hiding, but she was just an ordinary girl. So I hope that a lot of young people who see her will identify with her.
"For everyone it's just a reminder that even though the Holocaust was more than 70 years ago, sadly there still is the prejudice and discrimination in all societies that can if it is not challenged, can lead to something as awful as this happening.
"It is also a reminder to us all that we have a duty to challenge prejudice whenever we see or hear it and hopefully make out society a better place."
Cllr Scanlan added that the discussion of the Holocaust has been brought more into these modern times as people are more willing to discuss and speak about it.
"Especially the rise of the interfaith society in Sunderland and has been really active in the last couple of years. People talk about everything now and are more open. It's really good because kids of the time are starting to think about what they're doing and how they're reacting. I hope we do have some good from this exhibition."