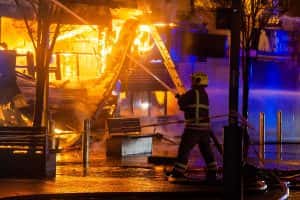 The fire started at 19:20pm and the first crew responded within six minutes of being dispatched.
Stephen Burdis, group manager for the eastern district of the Tyne & Wear Fire and Rescue Service stated that: "The officer in charge asked for extra appliances because he realised the condition of the building and how the fire was spreading. His quick action and the actions of the crew prevented the building fire spreading to other adjoining buildings, so we've mitigated the damage by his quick actions and I commend him on that."
TWFRS also thanks members of the community, local shops and the Salvation Army who ensured that the crews were fed on a very cold night.