Local singer-songwriter Martin Longstaff – who performs as The Lake Poets – is currently placed at no.4 in the British Itunes charts with his single Shipyards.
Thanks to the Netflix documentary Sunderland 'Til I die, the eight-episode series which aired on December 14 has given local lad Martin a huge backing. Along with celebrities such as James Corden and Jake Humphreys, Sunderland fans are eager to get Martin's single to Christmas number one.
I want this to be Christmas number 1. Let's do it. Shipyards by @TheLakePoets x x x @Fulwell73 https://t.co/4KDPyCeZAC

— James Corden (@JKCorden) 17 December 2018

The song, written by Martin, a primary school PGCE graduate of the University of Sunderland, was written in tribute to his late grandfather and has proved massively popular since the release of the documentary, where it plays in the opening credits.
Producers Fulwell 73 were granted full access behind the scenes at the Stadium of Light for last season's Championship campaign. It was an incredibly turbulent period, which saw the departure of manager Simon Grayson and arrival of Chris Coleman and ended in a second successive relegation before the sale of the club to a new management team headed by Stewart Donald.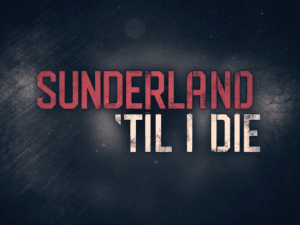 Graduate Martin, who studied at the University in 2012, was asked if the production team could use his song as the show's theme and has been touched that it has struck a chord with so many viewers.
There have even been calls for Martin to perform the song on the pitch when Sunderland take on Bradford City at the Stadium of Light on Boxing Day.
On Sunday, Marty tweeted: "Easily one of the best days of my life. Huge thanks for all the love and lovely words about Shipyards. Chuffed you all love the Fulwell73 documentary. Sunderland AFC are by far the greatest team the world has ever seen and the people of the city are even better."
I think I'm gonna be sick.
Might be a #redandwhitechristmas !!
Cheers so much everyone. X x pic.twitter.com/0rwYUPzxYW

— The Lake Poets (@TheLakePoets) 16 December 2018

Shipyards was originally released by The Lake Poets in 2015. You can download Shipyards from here. You can also watch the Sunderland 'Til I Die documentary here on Netflix.