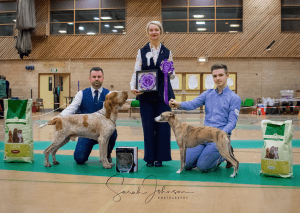 Sunderland and District Canine Society Open Dog Show took place on Sunday November 24, with 574 dogs turning out to compete for places at Crufts 2019.
The show was the first of two opportunities for contestants in the Sunderland area to qualify for the 2019 edition of Crufts. The second event will be held next April.
Lynn Bailey, chairman of Sunderland and District Canine Society and show manager for the event, said:
"It's an absolutely fabulous turnout today. We're really thrilled as a group.
"We tend to find that our show in April has more dogs entered in it than our November show, mainly just because of the time of year. Dog showing is a summer sport for a lot of people.
"Our open show is full of really good quality dogs. It could be that the dog that wins best in show here today has already qualified for Crufts."
Stuart Pearson, the handler and owner of the Best in Show dog, said:
"It was a real shock. The dog is good enough to win but on the day you never know: I was expecting to be home by now."
The winner, Stuart's first Bracco Italiano, has won groups around Europe, including Croatia, Holland and Ireland.
The three entrants to qualify for Crufts were:
Stuart Pearson and Carole Dodds's Bracco Italiano (Best in Show)
Luke and Helen Johnston's Whippet (Reserve Best in Show)
Marley and Thirwell's Tibetan Terrier (Best Puppy in Show)
The Sunderland and District Canine Society will host another dog show on April 21, 2019, allowing more entrants to qualify. It will be the first ever Premier Show held in the North East of England.