The mayor of Sunderland, councillor Lynda Scanlan, will be attending an upcoming carol service in Sunderland Minster to raise funds for her chosen charities.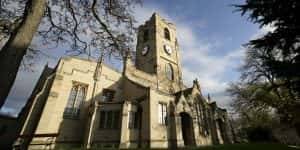 As part of the mayoral role, charities are chosen and supported every year. This year, the mayor has been promoting Sunderland and County Durham Society for the Blind, hopespring and the NSPCC Childline Service.
Representatives from each of these charities will be attending the service; members of The Hopespring Choir will also perform some carols alongside the Sunderland Minster Choir.
Mayor Scanlan said:
"I hope everyone will come along to join us at Sunderland Minster for this year's Civic Christmas Carol Service.
"This is the time of year where we gather with friends, family and the community to celebrate all that makes our lives and this city so special.
"Christmas is also a time to remember those less fortunate than ourselves so I hope people will be generous and donate to the Mayoral charities who do so much throughout the year to help the people in our community."                      
This year's civic service in the Minster begins at 6pm on Sunday, December 9.
After the service, guests are welcome to join the mayor for seasonal refreshments in the Minster.  Please confirm your attendance with the Mayor's Office no later than Friday 30 November via telephone 0191 561 1342 or by emailing mayor@sunderland.gov.uk