We've all dealt with the mess of an unexpected period. And who hasn't felt the shame of standing in the queue with Always Ultra buried at the bottom of our basket (underneath a heap of unnecessary buys we've hastily thrown to hide them).
Most of us will even have skipped sport or opted out of an exercise class because it's that time of the month. But for some women and girls, the bloody reality of their period is far more messy.
In 2017, statistics from Plan International UK showed that one in ten girls have been unable to afford sanitary wear, and even more have had to improvise due to affordability issues. We've heard heart-wrenching stories of school girls sellotaping tissue to their underwear and using socks to stop the bleeding.
A number of excellent and much-needed campaigns have launched, locally and nationally, in a bid to make free sanitary products available across the spectrum. They range from the high profile, nationwide Red Box Project – who recruit volunteers across the country to provide the service in their local area – to smaller, grassroots campaigns, such as Free Period NE, whose aim is to offer free sanitary products in all schools, colleges and public buildings throughout Tees Valley.  
Today is #InternationalDayoftheGirl. Our pledge to #EndPeriodPoverty on Teesside will help struggling girls & women. RT to show support: pic.twitter.com/HbefMYOd1S

— Free Period (@FreePeriodNE) October 11, 2017
This weekend Darlington Football Club and Darlington Rugby Football Club joined the 'On the Ball' campaign – originally launched in Scotland to increase visibility of female fans – to provide free sanitary products for fans at their Blackwell Meadows ground. These products will be available in all female toilets for the rest of the season.
Delighted to have been involved in getting @Official_Darlo & @DarlingtonRFC on the ball today, a great game too!! pic.twitter.com/5riQRCXaed

— Anna Wilson (@annawilsonnn_) October 20, 2018
38 ⚽️ | @Official_Darlo are #OnTheBall with free period products for their fans!

Huge well done to all involved! ✊🏽🎈 https://t.co/89Fl8kdY4w

— On The Baw (@OnTheBaw) October 20, 2018
Campaigns such as On the Ball are invaluable. Not only do they contribute towards making sanitary products accessible to everyone, they are also helping to rid the shame that still shrouds periods.
When the period poverty epidemic first hit the headlines not all that long ago, the nation was shocked and – at least for those with an ounce of empathy – appalled. Girls were skipping school and missing out on their education because they simply couldn't afford to buy sanitary pads. How was it possible that such abject poverty was happening here in the UK, right under our noses?
Yet it should have been obvious. With more and more families living on the breadline and depending on food banks to get by, the question we should have been asking was actually: how could they afford to buy sanitary products?
Under former Vice President of Wellbeing and Engagement, Kirsty Paterson, the Students' Union at the University of Sunderland led the way with the Free Period initiative, making free sanitary products available to all students. The campaign saw high numbers of students both accessing and donating to the service. However, despite its success, it is currently uncertain whether this campaign will continue in the future.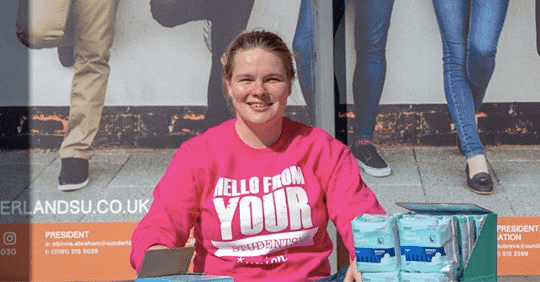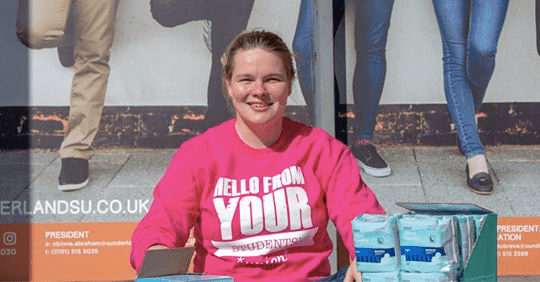 It's not just about affordability, it's accessibility. Periods can be unpredictable. If you're at school, university, or even in the workplace with no access to sanitary products – free or otherwise – you're left with little choice: either skip class or stuff some tissue down there and hope for the best. A prospect that quite frankly no one should be faced with, especially not in 2018. And particularly when it comes to sport and other male-dominated environments.
Plan International UK suggests that, staggeringly, almost half of girls aged 14 to 21 in the UK are embarrassed by their periods. And while 49 per cent of girls have missed an entire day of school, nearly two-thirds have missed a PE class or sport because of their period.
It's a shame that while society is tackling so many stigmas – we are encouraged to open up about suicide and mental health and not be ashamed of our sex lives – talk about periods still turns faces red. The fact is that period poverty isn't just another by-product of being poor. It's the result of a society riddled with gender inequalities.
We give out free condoms (and rightly so), but not only do we force women to pay for their tampons, we tax them for the luxury of it. Just imagine how different things would be if men menstruated.