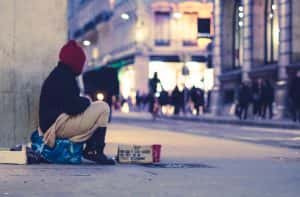 On the 27 October 2018, EE employees will brave the cold night to raise awareness of homeless in the region.
Employees of the Mobile Network provider EE are to sleep outside for a night for a fundraiser for The People's Kitchen, a charity based in Newcastle.
Lindsey Wallace, sectional head of consumer customer Care at the EE North Tyneside Contact Centre, was able to comment on the event. Lindsey said:
"The experience will be an enlightening and humbling experience for everyone involved, while helping to bring attention to the issue of homelessness and the needs of the less fortunate in Newcastle."
With 50 people taking part in the charity event, EE are looking to raise over £2,500 for The People's Kitchen. This will be the biggest charity event they have ever done.
Based in Newcastle Upon Tyne, The People's Kitchen aims to support the disadvantaged and Homeless by working with trustees, providing 140 hot meals every night, supplying everyone with clothing and bedding.
The Newcastle organisation is completely run by volunteers, working over 35,000 unpaid hours every year, offering a vital lifeline to those who need it.
A volunteer from The People's Kitchen, Jackie Boardman, was able to shed some light on the work the organisation does. Jackie said:
"On average we serve 120 meals a night but this could be up to 160 at busy times. Clothing and shower facilities are offered and friendship is a major part of the kitchen."
Retail Customer Care Advisor, Ellie Carr, is one of the 50 participants who are going to brave out the cold autumn night describing it as an 'enlightening event'. Ellie said:
"It's a wake-up call to remind you to be grateful for what you have. To make you understand the life some people have to live."
In England, it was estimated that 4,751 people were homeless in 2017, which is a 15% increase compared to 2016.
One in three homeless people have been deliberately hit, kicked or assaulted. The average life expectancy is 47 years and the suicide rate is 9% higher than that of the general public.