Durham riverside's redevelopment into a state of the art shopping complex is due to be completed by 2019.
The area will be known as Riverwalk, and work on the site of the old Durham passport offices is now past the half-way point.
A new state of the art shopping complex will be the centrepiece of a new look for the riverside.
The regeneration will include installing a multi-screen Odeon cinema along with a range of popular restaurants.
It is estimated the work will cost £195 million once it is finished, with a substantial amount of investment going into the project.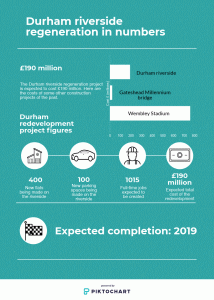 The developers of the new site, FaulknerBrowns Architects, believe the old buildings along the riverside had been long overdue refurbishment to match the aesthetics of the rest of the city.
Despite this, many local residents have voiced concerns about the lack of parking and disruption that the new shopping centre will cause.
It is estimated that 100 new parking spaces will be made for 400 residential homes and the shopping centre.
However, local police community support office (PCSO) Patryk Montelatyc believes that the work will fill a "gap in the infrastructure" and that some work needs to be done to modernise the city.