Concerns are being raised by residents and people working in the Deptford area about possible air pollution following a fire at the former Alex Smiles recycling plant in Sunderland.
In a statement, the Environment Agency said: "Sunderland City Council and the Environment Agency are carrying out air quality monitoring with equipment set up near the site to monitor the smoke from the fire.
"People who are generally fit and well are unlikely to experience long-term health problems for temporary expose to smoke from a fire. To minimise your expose, shelter as much as possible by limiting the amount of  time you spend outside in the smoke."
Fire crews are still at the site near the River Wear dealing with the blaze – the cause of which currently remains unknown.
Tyne & Wear Fire and Rescue Service tweeted on Thursday morning: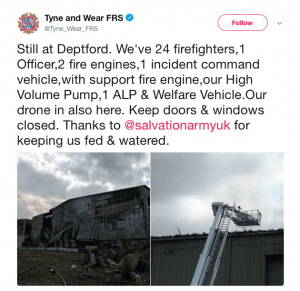 The Environment agency added: "People with asthma and other respiratory conditions may be particularly susceptible to the smoke and should carry and use their medication as usual. If you have any concerns about the smoke's impact on your health please call your GP surgery for advice or contact the NHS 111 service."
Public Health England have also encouraged residents to follow @PHE_NorthEast for more advice and information.