Labour have won their third council seat in Cullercoats, North Tyneside, after a close battle in the 2018 local elections.
Heading into Thursday's polls, the ward was known to be one of the few genuine political battlegrounds in the borough. After years of Conservative domination, Labour won its first seat in 2015 by a fine margin of 24 votes.
The following year, Labour won its second seat more comfortably, with Karen Lee defeating the incumbent, George Westwater, by 371 votes.
In 2018, Labour's candidate, Willie Samuel, looked to take the last Conservative seat from Ken Barrie, who had held his seat since 2010 and won two previous elections.
By Friday noon, North Tyneside Council began tweeting the local election results; in the event, Samuel narrowly defeated Barrie by 41 votes. Judith Wallace, the local Conservative leader, paid tribute to Barrie, one of two members of her party to lose their seats.
Though Labour now hold all three seats in Cullercoats, a glance at recent voting history suggests the area will continue to be closely fought. As the following chart shows, the percentage of the vote has been incredibly close since 2010: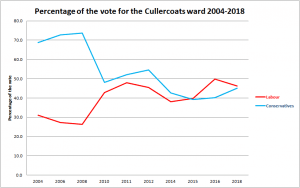 This pattern was not broadly repeated elsewhere: only four of the twenty seats up for re-election were won by fewer than 100 votes.  Labour's average margin of victory, across 18 seats was 761.4 votes; the average conservative winning margin, over two seats, was 494.
The average margin of victory across North Tyneside was 734.7 votes.