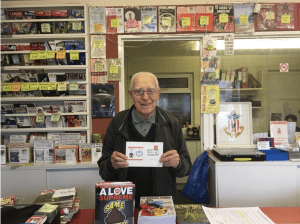 George Forster was this month named Championship fan of the year after being nominated by Sunderland AFC.
The life long Sunderland fan was recognised for his commitment to the club.
At 91, he devotes five days a week to the Sunderland AFC Supporters Association as chairman.
George said: "I didn't expect the award, but it is nice to be appreciated.
"Not only is it an honour for me, but it's an honour for the association as well."
The association was set up 1965 and has been raising money for over half a century for the black cats.
Martin Bain, Sunderland AFC chief executive, said: "George is a real part of the fabric of this football club and this recognition is richly deserved.
"He has given so much, and continues to do so to this day. He is loved by everyone he comes into contact with and to see one of the game's unsung heroes honoured in this way is fantastic."
The donations have paid for many things over the years, one of those being the instillation of the first telephone connecting to the directors' box to the dug out at Roker Park.
Alongside the restoration of the world's biggest oil painting of a football match which hangs in the foyer of the Stadium of Light.
In 2013 he received the Barclays Unsung Hero Award, and was also the face of Sunderland's 2016-17 season card campaign to which he was awarded a lifetime season card in celebration of his 90th birthday.