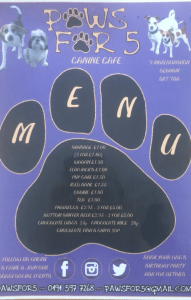 As Paws For 5 celebrate their one-year anniversary owner, Anne Seymour, tells us what is really is like to own a 'dog-friendly café'.
Canine owners who have to get their coffees 'to go' or drink them outdoors, whether it be rain or shine, will most definitely appreciate the Paws For 5 experience.
Anne explains that the cafés target clientele are the canines, rather than their owners: "it is their café – they just bring their humans to pay."
The canine café who offers your furry friends the same cuisine as you, from flapjacks to Prosecco, has both a menu for dog owners and a menu for the dogs themselves.
Paws For 5 welcome every furry friend through their doors and take specific pride when noticing a change in their demeanour. "People say when they come in that the reason they come in is to try and get their dogs used to other people and other dogs," says Anne's daughter, Nicola.
Regular customers to the canine café agree that the coffee and cake isn't all that attracts them to Paws For 5, it's the sense of community, making new friends and improving their beloved pets' behaviour.
The dog-friendly establishment hold regular events such as organised dog walks and "puppy socials" but can also cater for your canine celebrations. Paws For 5 hold dog birthday parties and offer treats, doggie buffets and can even pour your pup a glass of "pawsecco."
Anne admits she loves the atmosphere of the café, meeting new people and their pets every day and hopes the years to come will be as successful and enjoyable as the past.
If you fancy cuddling your canine while indulging on coffee and cake, you can find a dog-friendly café near you here: