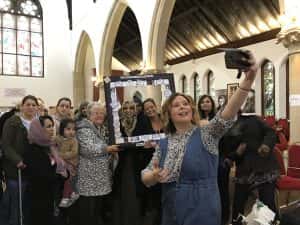 Women across Sunderland celebrated International Women's Day and the campaign theme for this year is 'Press for Progress.'
International Women's Day falls on March 8 and every year women across the world come together to celebrate the social, economic, cultural and political achievements of women.
Gentoo housing group organised the celebration at the Sunderland Sikh temple known as the Gurdwara.
Deputy Director from Gentoo, Lucy Malarkey, said: "The Economic Leaders Report 2017 reckons that it will be nearly 200 years before we reach equal parity for women but we're on the right road.
"We might all be little drops, but together we make an ocean – so today what we are saying is that people can make small steps individually but they do add up to make a real positive difference to women everywhere."
The event was open to everyone across different communities to experience multicultural food, henna art, dancing, singing as well as participate in craft making. The event was free but only open to women.
Rehena Sultana, support worker from the Bangladeshi International Centre said: "Women from the Bangladeshi International Centre came to the Gurdwara to celebrate this day.
"Women in large numbers attended, women from different communities all united together and thoroughly enjoyed themselves."
In a world where gender equality appears to take the wrong direction, Press for Progress is aimed at accelerating progress to a more inclusive, equal world.
Follow @GentooGroup to view photographs of the celebration.