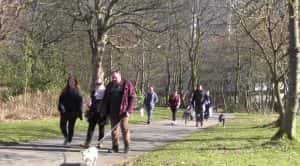 On Sunday 25 March, over 80 dog walkers took to Leazes Park in Newcastle to take part in a charity event to raise money for a local cancer charity.
FACT – or Fighting All Cancers Together – which was set up by Joanne Smith from the Newcastle area, is now celebrating its tenth anniversary and is hosting a number of events throughout the North East in 2018.
"It was an idea I had as I came out of my own breast cancer journey" said Smith. "It was the big learning curve I went on during that process which lead me to set the charity up". She was diagnosed with breast cancer at the age of 34 and, since overcoming the disease, she has been able to assist those who are going through what she experienced.
Although this is the charity's first sponsored dog walk, they have been able to hold a wide range of events over the last decade. "We had about 80 something, maybe 90 people here today which is great for our first one. I'm really pleased," explained the charity's founder, who has been involved in almost every event since her charity began.
So how much has the event been able to make?
"I have no idea yet!" joked Smith. "We'll have to wait and see what our lovely team do when they count it all up but hopefully we've done very well."