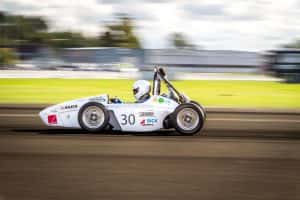 Sunderland is not the first place that you may think of when it comes to racing cars. However, Sunderland has its own student lead racing team where they not only drive, but build cars as well.  The company, AMAP, has made this dream a reality for those with a passion for automotive sport. This year, Sun Racing from the University of Sunderland will be taking part in Formula Student, Europe's most established educational engineering competition.
The team have been going to Silverstone Race track every year to compete in this race since 2003. Over the past year, the team has really stepped up their game as they finished in the top 50 of all teams competing from around the UK and abroad. The team isn't just for those studying mechanical or automotive courses either. They are looking for any students who would like to take part; you don't have to have experience in mechanics or racing. They are particularly looking for business students which could help to develop presentational skills and management.
"We want everyone who has a passion for the sport. It's great fun to take part in and it really is a team effort, there's no I in team. " Explains Paul Smith, technician, adding: "This year a great new array of ideas and designs have been added to the single seater car, including custom design shocks of suspension from Maxton. £35,000 is the typical cost to build and design the cars to race. It's an opportunity that most wouldn't get to experience. From start to finish the team design and build the car themselves."
One of the students that has benefited from the experience is Beth Harrod who is currently undergoing a placement at BAE Systems (who build submarines for the Royal Navy) as an engineer, who said: "It's improved my confidence so much and I've also made great friends out of it.
"My favourite part is probably just the fact I get to build a race car. It's nice to put what I've learnt in lectures into something more practical. In terms of work, it gave me something to talk about in my placement when I'd have otherwise struggled through the interviews. We get to do loads of other cool stuff too like go to the Isle of Man TT motorsports which is an amazing opportunity."
Roger O'Brien is the director and is in his third year of helping to manage Formula Student.
"It's giving all the students the real projects that they would encounter in the working world. You'll learn from mistakes and be able to improve. It'll put you in front of the right people. You'll be able to learn skills out of the system have fun and team build. We're trying to instil a formed structure into the team meetings now that you would see professionally.
"This year it's going to be harder with a lot more of the continental teams taking part. We're going to have to improve our car so we can hold our position. Last year we had the privilege of doing the parade lap – a full lap of Silverstone at the end of the race. We plan to get better every year. "
For anyone wishing to join please email James Spiby, "bg71pm@student.sunderland.ac.uk" for more information.