Various Freedom of Information requests have revealed where the most dangerous areas for potholes are in the North East.
Some of the worst areas include Newcastle, Durham and Northumberland.
In the last three years, Newcastle City Council has filled a staggering 43,922 potholes at a cost of just under £12 per pothole.
Two of the most dangerous streets in the area are Durham Road and Whitehouse Crescent.
Whitehorse Crescent is littered with potholes, as shown in the video below.
Northumberland County Council has filled 114,776 potholes in the last three years, more than doubling Newcastle's tally.
In the period of 2016/17 alone, Durham County Council has responded to over 50,000 reports of potholes – filling a total of 58,457.
Despite the high number of potholes being filled, the number of unfixed potholes on the roads is still a problem for the North East.
Lead Member for Area Management and Community Safety at South Tyneside Council, Councillor Moira Smith, said a consistent lack of government funding is to blame.
"Sustained cuts from central government over many years have left councils with the burden of managing an ageing road infrastructure, without the funding needed to deliver improvements," she said.
South Tyneside hasn't been required to fill as many potholes as other North East councils, filling 14,251 over the last three years (up to September 2017), but Councillor Smith said it's still an uphill battle.
"While we may be able to fill in potholes as they appear, the highways network in South Tyneside is facing a backlog of £69 million to bring it up to standard," she said.
"Unfortunately highways are set to deteriorate as we currently receive less than half the funding needed just to 'stand still'."
Head of Technical Services at Durham County Council, John Reed, said they have had to spend more of their own budget on fixing the roads.
"We have… increased our funding in recent years for the resurfacing of roads and footpaths despite unprecedented reductions in central government funding," he said.
"This has led to improvements in the condition of our roads, which helps prevent potholes from forming."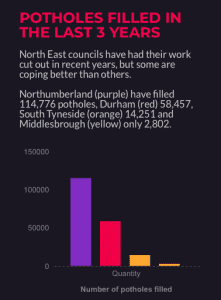 Sunderland City Council, also facing the reality of reduced central government funding, has invested nearly £3 million for planned road resurfacing and footway refurbishments.
Portfolio Holder for City Services, Councillor Michael Mordey, said the council hopes to continue the same level of funding going forward.
"Should the budget be approved, a similar investment is anticipated in the 2018/19 financial year," he said.
"Such investment greatly assists in stopping the formation of potholes in the first instance as well as providing a long-term solution to future road surfacing failures."
There have been 4,109 reports of potholes (up to August 2017) and 17,551 filled potholes (up to July 2017) in Sunderland in the last three years.
Councillor Mordey said it's important to continue reporting potholes and other road related issues to the council.
"Road users play a vital part… by reporting any highway problems to us on 520 5550, so we can take appropriate action when resources become available," he said.
While most North East councils attend to a high number of potholes, Middlesbrough Council's numbers are significantly lower.
In the last three years, the council has filled just 2,802 potholes, with 1,259 of those in response to reports.
Senior Press Officer, Angus Hoy, said the council is looking to make their repair process even more efficient moving forward.
"We operate an inspection regime under which defects are added to the list and then drop off as repairs are carried out… we are looking to move away from individual pothole repairs where possible, adopting instead a plane and patch approach," he said.
"We have recently purchased our own Bobcat to enable us to plane areas with multiple potholes and patch instead."