Britain is facing the lowest bus coverage in 28 years. 
An analysis published by the BBC's Shared Data Unit, shows that the bus networks in Britain have shrunk to lower levels that were last seen in the late 1980s.
Bus cuts were seen in different areas in the North East, where the analysis shows that the North East was affected by almost 20 per cent more cuts in 2016/2017 than they were in 2013/2014.
The shrinking in bus coverage has led the commuters of some of the rural areas to start their own voluntary bus lines, and has encouraged campaigners to speak out about the problem.
A spokesperson for Better Transport UK said: "We believe that a comprehensive bus network is really important for communities, the economy and the environment. Thousands of people depend on bus services every day, and in the city, each bus replaces up to 70 cars, helping cut pollution and traffic congestion.
"Smart tickets like the Pop Card, better travel information and improved connections to the Metro and local rail are all important in delivering the better buses that local people deserve. We're hearing people across the region speaking up about how important bus services are, for getting to work or study, the shops and the hospital.
"Local councils and bus operators like Nexus are playing their part: it's time for the Government to act as well. We need a long term national bus investment strategy that works for everyone and places the bus at the heart of our transport system."
Local MPs have taken to social media to express their opinions on the matter.
Sharon Hodgson, Washington and Sunderland West MP, said: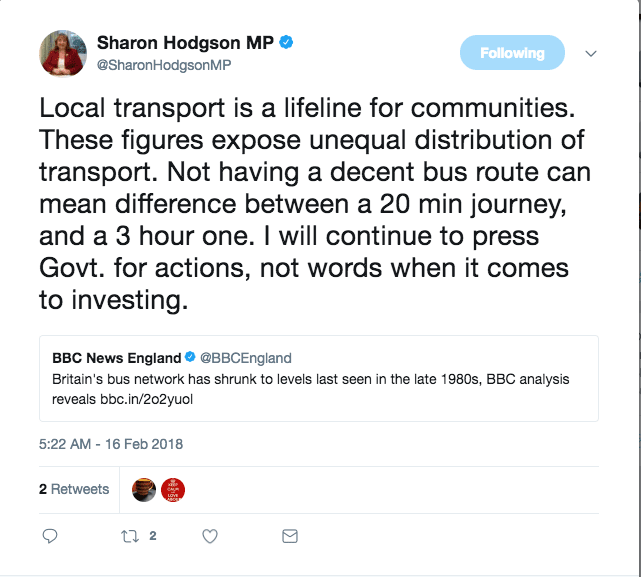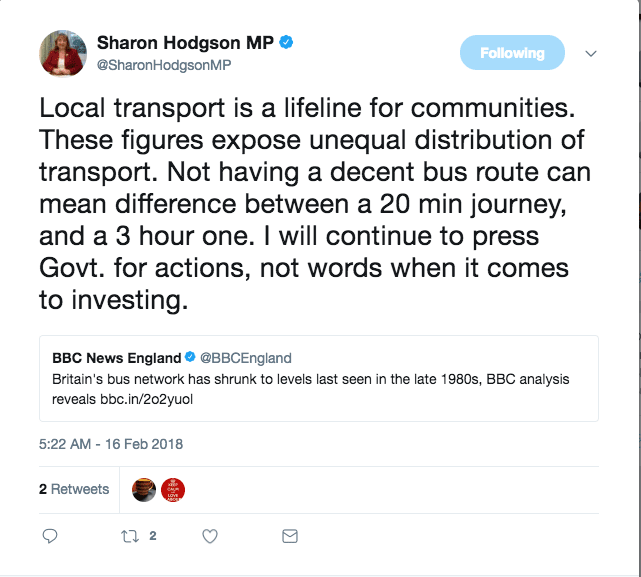 Andy McDonald, Labour Member of Parliament for Middlesbrough and Shadow Secretary of State for Transport, said: